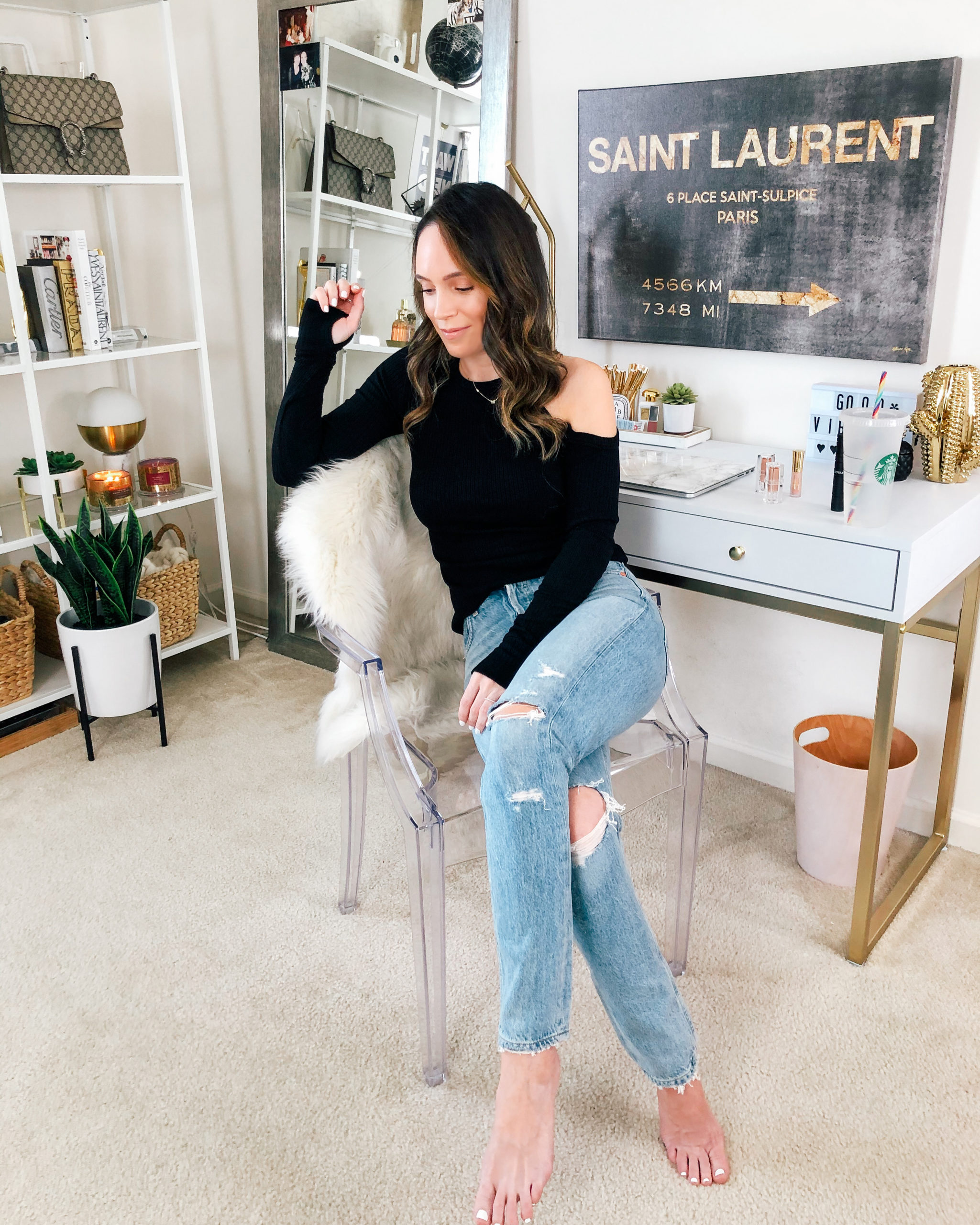 Sweater – Michael Lauren | Jeans – Agolde | Office desk | Painting | Chair | Lamp
1. I just ordered this ball ring to match the bracelet I have. The bracelet is a great layering piece so I'm excited to style the ring as well!
2. I'm still here for the puff sleeve trend and this sweater is a great fall transition piece. And the color is gorgeous.
3. If you already want to skip to long sleeved things, here is a puff sleeved option that would be a great casual piece.
4. This Amazon sweater looks like a Free People sweater but at a fraction of the price.
5. I love the look of this leopard print workout set.
6. I'm obsessed with this look of this office chair.
7. How beautiful are all these delicate handmade jewelry pieces by Black-owned business Lace and Pearls?!
8. How chic is this woven shoulder bag? It is the most gorgeous winter white and under $50!
9. I decorate with coffee table books and use them around my whole house. Here are a few I'm loving right now: this one, this one, this one and this one.
10. This cozy loungewear set from H&M looks comfy yet still chic.
11. This is the nicest looking scrubby brush, right? Doing the dishes is the worst chore ever but at least the brush you use can be fabulous. Ha!
12. I love Lele Sadoughi headbands and this faux leather one is perfect for fall!
13. For those that love neutrals, these silk face masks will go with any look.
14. These sneakers are a great dupe for my leopard print Golden Goose sneakers!
15. I've been loving this nude lipstick and am contemplating trying the lip liner next.
16. If you are loving the ear huggie trend, these are so unique and beautiful.
17. I just ordered this neutral eyeshadow palette and cannot wait to try it out!!!!