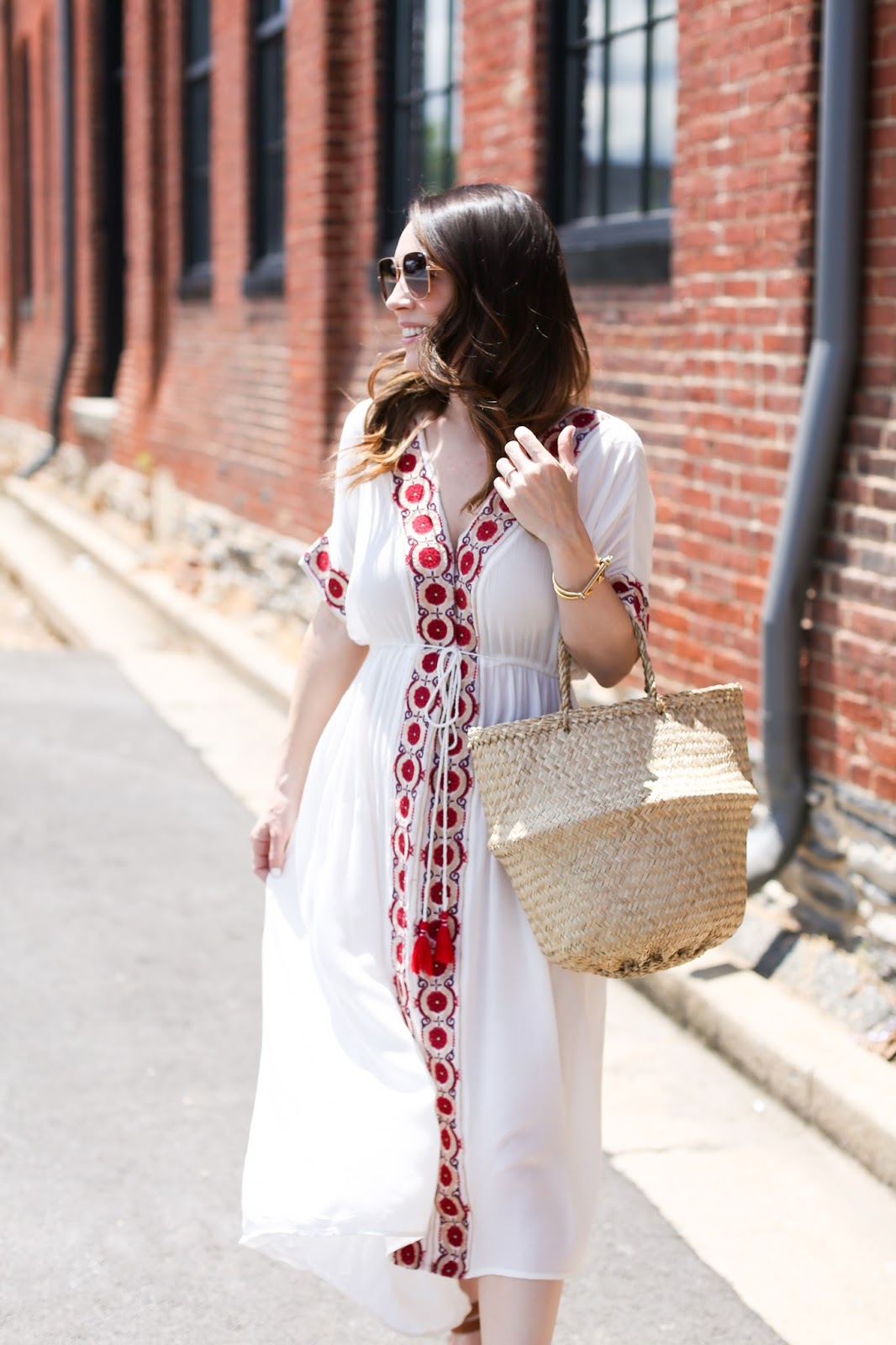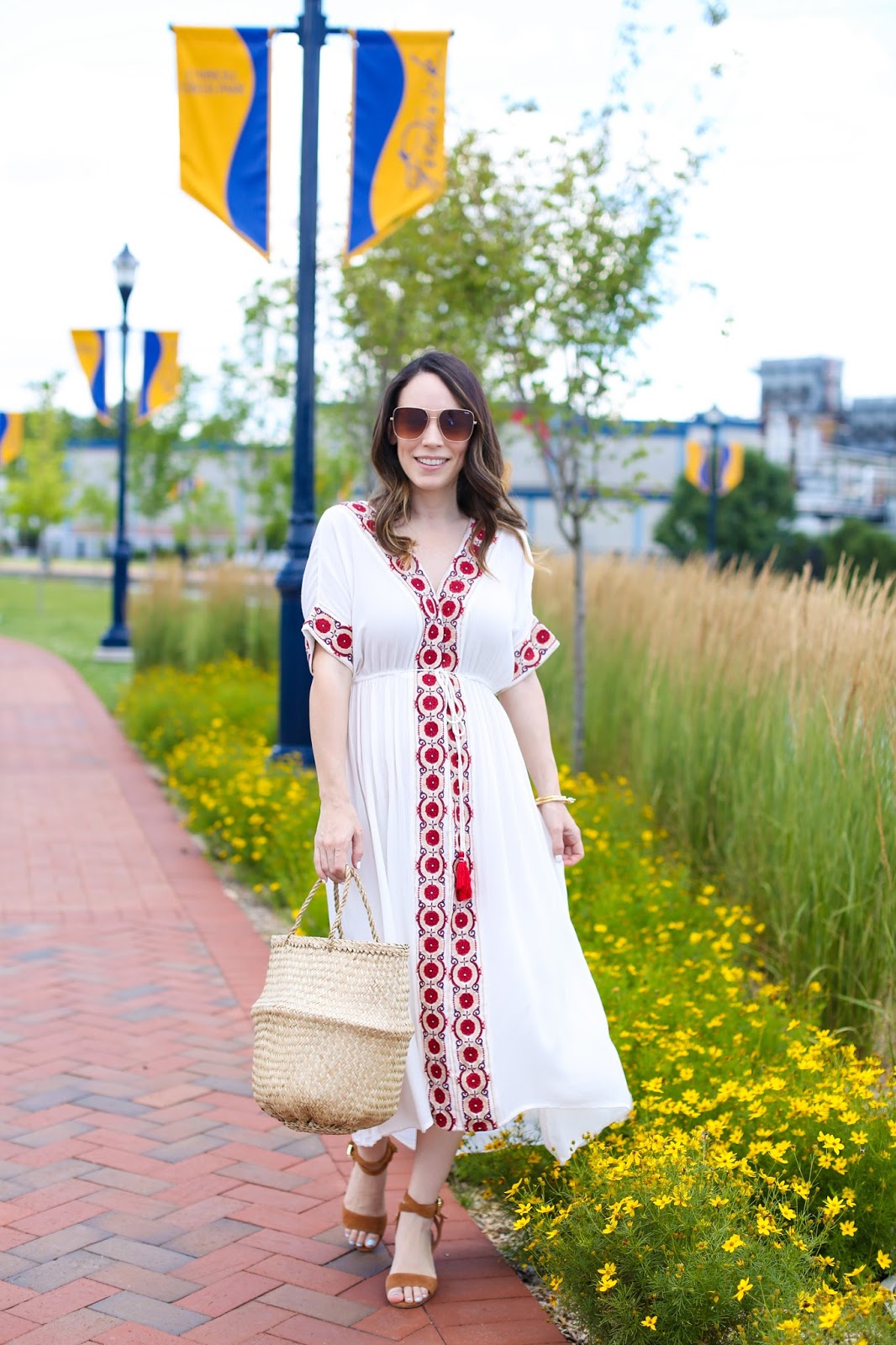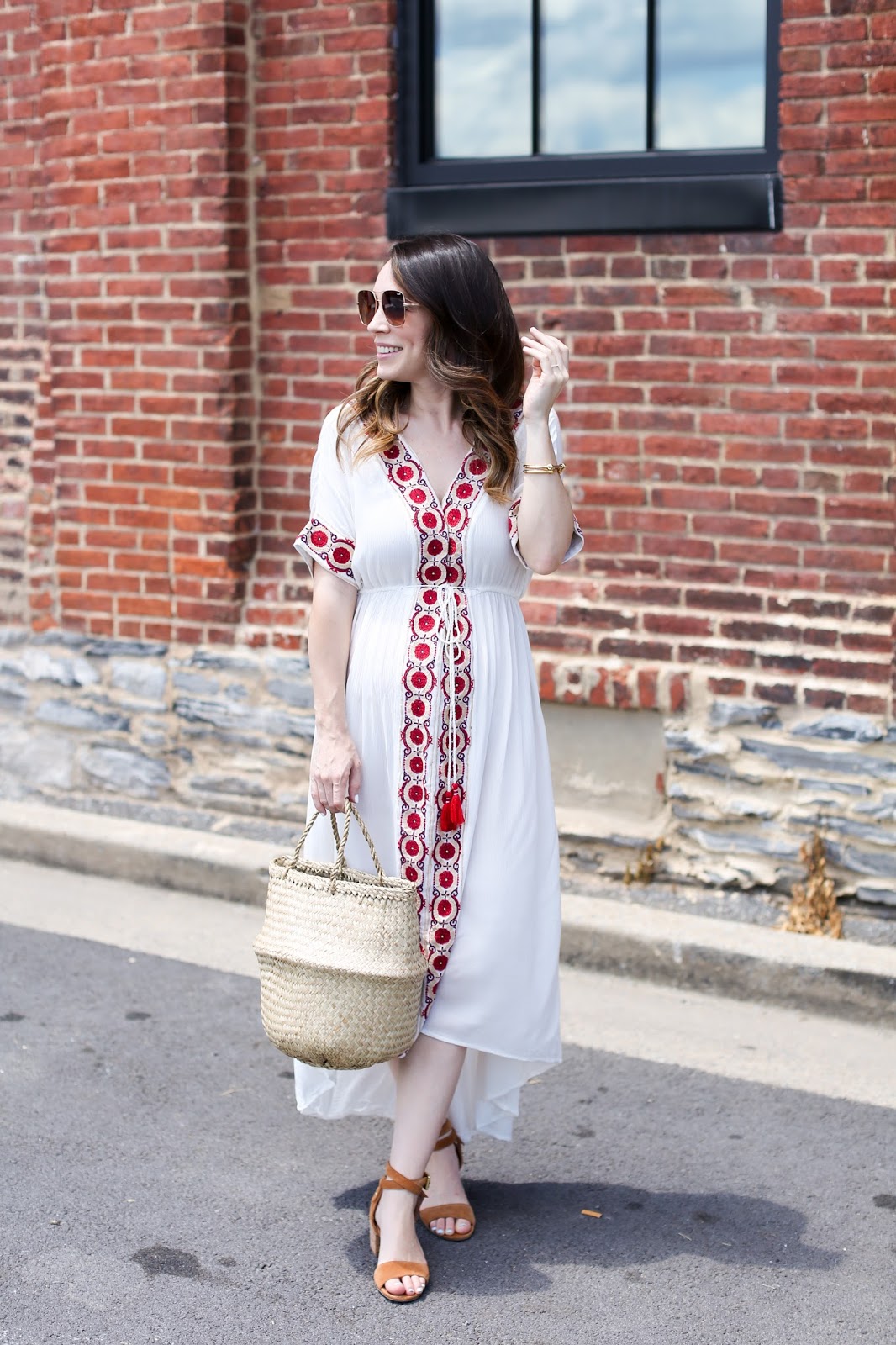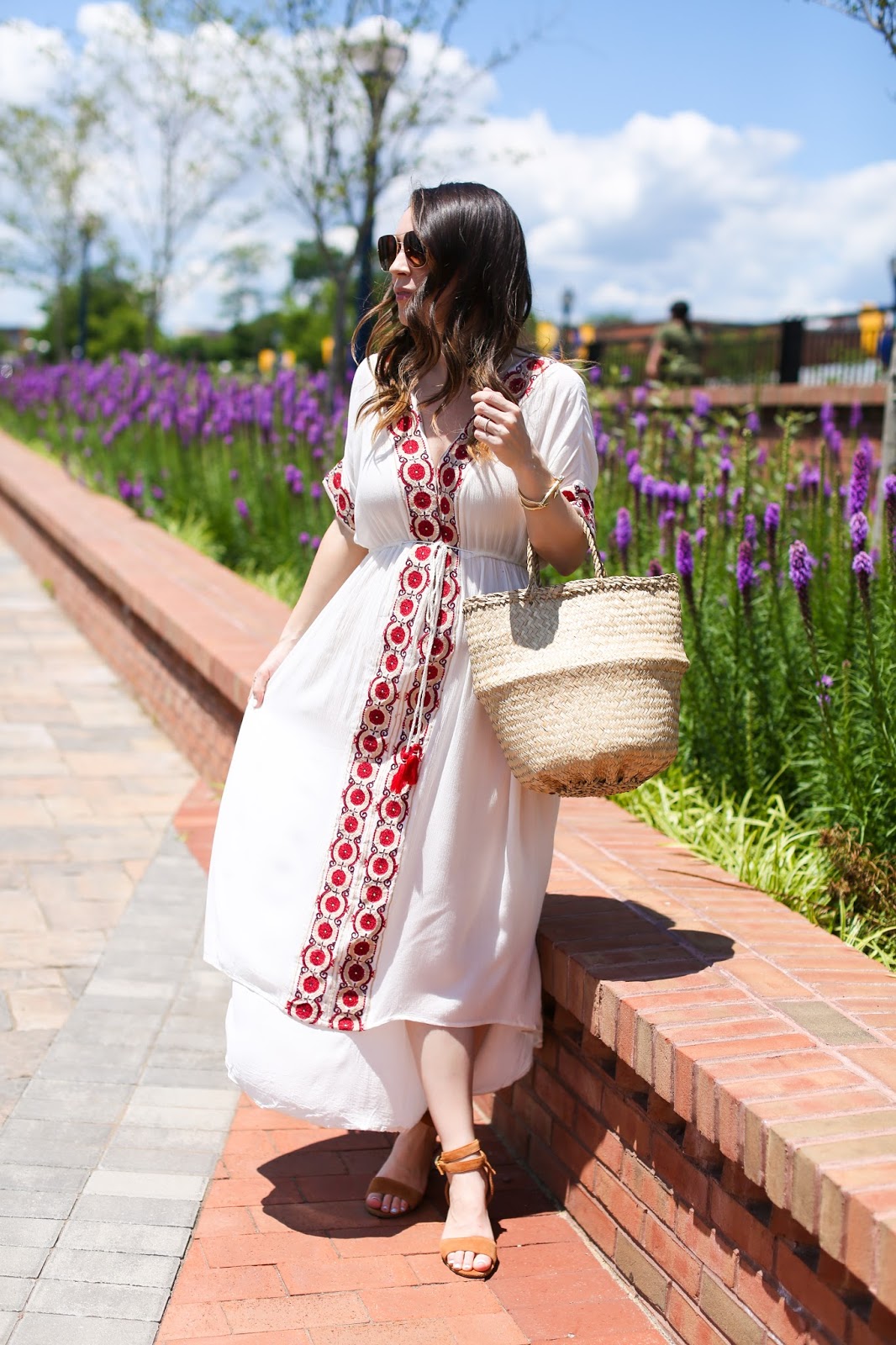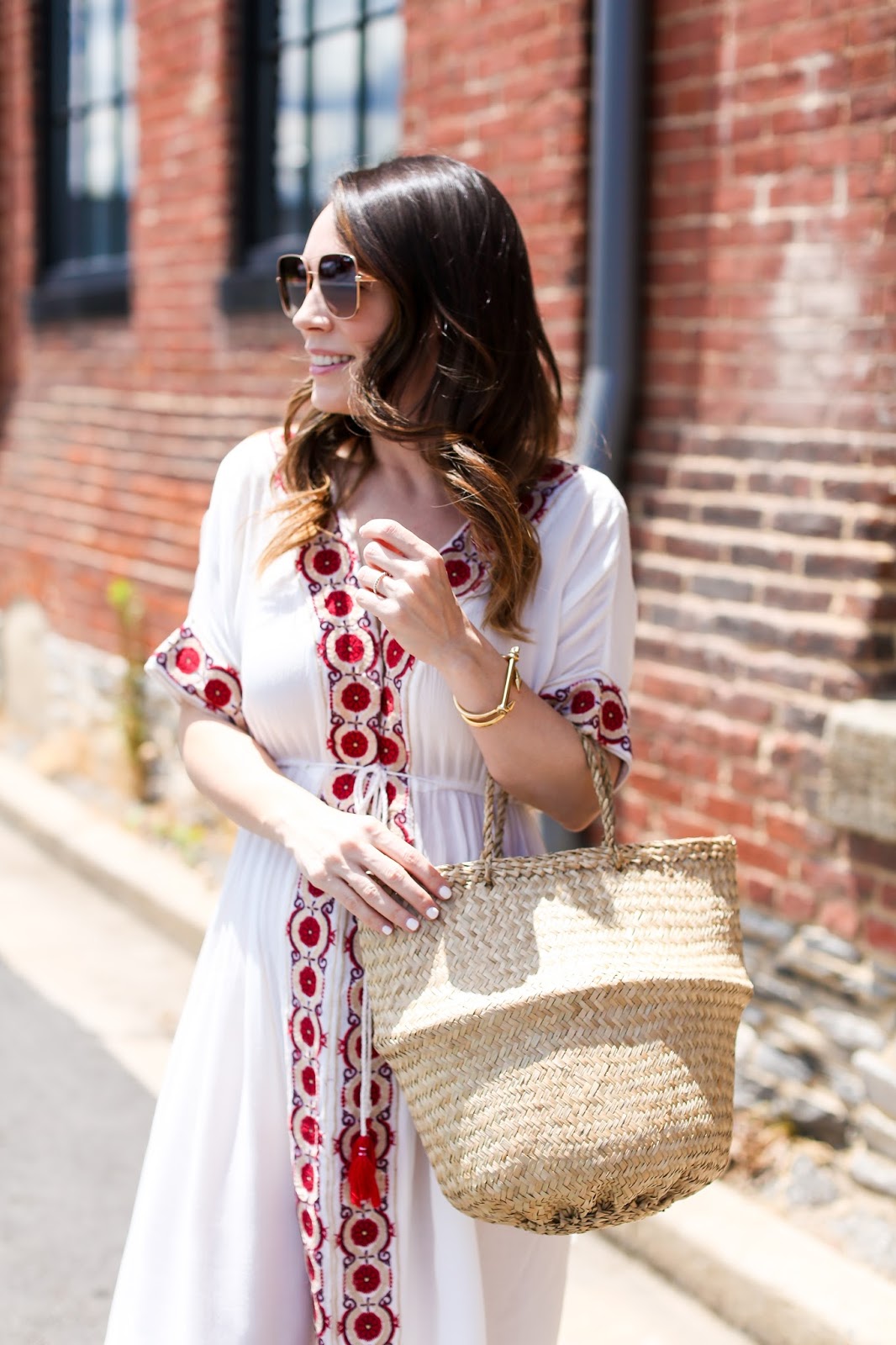 Before we dive in to my recent reading list, I need to talk about this maxi dress first. #priorities I absolutely LOVE the look of a maxi dress but always struggle with them being too long or looking silly on my 5'4″ frame. However I am always determined every summer to find ones that work and am so proud when I can manage to identify a few winners amongst all the losers. Ha! (some previous winners from past years are in this post, this post, this midi that was a maxi on me and this post) One of my tips for looking for maxi dresses if you are on the petite side is to look for midis instead which more than likely will end up being maxis on us! The hi/lo hem for this dress was a gamble since I know the hi portion would work but was afraid the lo portion would drag on the ground like a wedding veil. LOL Thankfully when it arrived I was in love with the length and the empire waist was a hit with my bump. I have always liked empire waist styles but obviously they are really dominating my wardrobe choices lately. The material is quite thin so I actually wore a slip from another dress underneath which worked perfectly. 
And of course to finish the look is another straw bag. I actually looked back at my old summer outfit posts and wondered why I never paired more outfits with straw totes – they really are the perfect accessory for summer. This particular one was only $28 but sadly it sold out at lightning speed. I did link the site from which I purchased it so check back as I was able to get it during their restock. Ok, now onto my recent reading list. I've been quite busy this past month as you will see! (I've actually been downloading audiobooks instead of reading them and love it so much more, but I will use the term "read" for the sake of this post)
1.
Before I Go To Sleep
– The main character, Christine, loses her memory in an accident and has to wake up each day relearning what she lost from the day and years before. Though it sounds like it would be a boring "groundhog day" type story, Christine begins journaling each day so as to remind herself all the pieces of her life that she begins to uncover. And as she does, she realizes some startling and frightening things about her current situation. 
2.
The Secrets You Keep
– This one kept me guessing all the way to the end. Bryn is an accomplished self-help author that is struggling to work through the trauma of a recent car accident. Details of that accident are unknown to Bryn and after a series of events and odd behaviors from her husband, she discovers the real reason behind it and has to ultimately protect herself from the devastating truth.
3.
The Perfect Stranger
– This one took me a bit to get into, but about halfway through I couldn't put the book down. After losing her job and reputation as a journalist in Boston, Leah moves to a rural suburb in Pennsylvania with her old friend Emmy. Shortly after arriving, a young girl is attacked by a nearby lake and Emmy goes missing. The ending is somewhat predictable but the storyline keeps you guessing just enough to keep reading.
4.
Right Behind You
– If I had to pick a favorite out of this bunch, this would be it. Sharlah Ray Nash is a teenage girl that watched her brother murder their abusive father when she was younger. She and her brother are separated going into the foster system and she doesn't hear anything about him until years later when he is accused of committing a brutal murder in town. Her foster parents who are FBI profilers are assigned to the case and Sharlah finds herself trying to find out why her brother has committed such a crime and sets out to uncover the mystery herself. It's a great read from start to finish!
5.
The Rules Do Not Apply
– Sadly, out of all the books I read this was my least favorite. It is the author's memoir in which she shares the loss and grief she suffered over the course of her adult life. From an alcoholic spouse to the loss of a child, she chronicles her experiences and feelings surrounding these events. To be honest, I had wanted this book to be a bit more intense or maybe the writing more intense? While what she went through was challenging no doubt, the sentiment and emotion surrounding everything fell flat for me. 
6.
Sharp Objects
– This is actually my favorite book out of this list, but I
forgot
 that I read it already. Whoops! I began reading it and after a few chapters realized that I knew the story from when I read it a few years ago. Either way, it's a fantastic read! It's by the author of Gone Girl and is just as captivating. Camille Preaker is a journalist that is forced to leave the city to return to her small southern hometown to investigate a young girl's murder. Shortly after she arrives, a second young girl is killed and Camille must delve into the dark secrets of this small town. It has such great twists and turns that I thoroughly enjoyed reading it a second time!
7.
Dark Places
– Another winner from Gillian Flynn, the author of Gone Girl. She really knows how to write a thriller that keeps me guessing until the very, very end. Libby Day suffered a horrible tragedy as a child when she survived the brutal killing of her entire family at the hands of her brother. However 25 years later, Libby is contacted by a membership group obsessed with gruesome, well-known crimes and want to hear details from her about that horrible evening. Many of the group members believe her brother is innocent and urge Libby to see if she can uncover any more facts about that night that would possibly exonerate him. As she reluctantly decides to see if there is any truth to their beliefs, she is shocked to find out what really happened that night.
8.
The Girl in the Spider's Web
– Even though I am only halfway through this one, I wanted to include it anyways. I was a huge fan of the Girl With the Dragon Tattoo books so I was immediately excited to see a new one added to the franchise. However, just know that the original author Stieg Larson died more than 13 years ago so this book was written by someone else. I am really enjoying it, since I loved the Lisbeth Salander character but I do agree with many reviewers that said this author lacks the intensity in his writing that Stieg did so masterfully. That being said, it still has kept my attention so far and I love seeing how Lisbeth and her unmatched hacking skills are put to work in investigating the death of a famous professor.
Shop more maxi dresses:
!function(d,s,id){var e, p = /^http:/.test(d.location) ? 'http' : 'https';if(!d.getElementById(id)) {e = d.createElement(s);e.id = id;e.src = p + '://' + 'widgets.rewardstyle.com' + '/js/shopthepost.js';d.body.appendChild(e);}if(typeof window.__stp === 'object') if(d.readyState === 'complete') {window.__stp.init();}}(document, 'script', 'shopthepost-script');

JavaScript is currently disabled in this browser. Reactivate it to view this content.