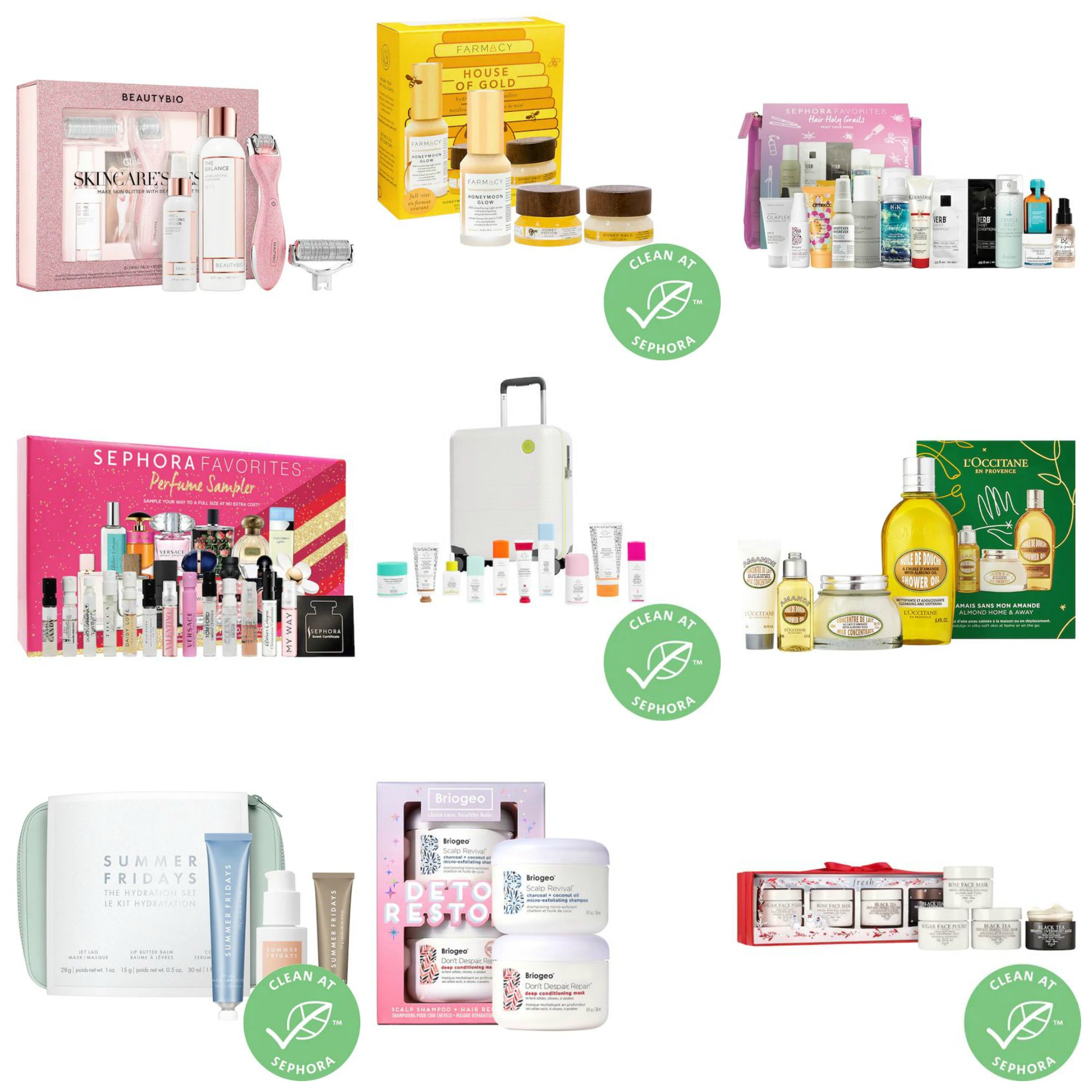 The Sephora sale is still going on and the next level (VIB) can now begin shopping today! I thought I would share nine sets not to miss!
SEPHORA BEAUTY INSIDER EVENT DETAILS:
ROUGE get 20% off with code: HOLIDAYFUN from 10/30-11/9
VIB get 15% off with code: HOLIDAYFUN from 11/3-11/9
INSIDER get 10% off with code: HOLIDAYFUN from 11/5-11/9
Shop the Sephora sale here
1. BeautyBio Skincase Bestie Set – I love my GloPro and this set comes with the face roller and the body attachment in the same set! If you have been wanting to try the GloPro, this is the set to get!
2. Farmacy House of Gold set – A full size of one of my all time favorite serums – Honeymoon Glow + the new Honey Halo moisturizer which is perfect for the winter and the Honey Potion mask which is a staple in my collection. If you have been wanting to try Farmacy, this is a great set to try.
3. Sephora Favorites Hair Holy Grails – These Sephora Favorites set always sell out so quickly so I would act fast. This hair one is a great way to try a bunch of products at once and decide which full sizes you would purchase in the future.
4. Sephora Favorites Perfume Sampler – I have purchased this set in the past and love it as a way to test a ton of new fragrances.
5. Drunk Elephant Trunk 4.0 – This is a major splurge but if you are a Drunk Elephant fan or know someone that is, these are all full size products! This year it comes in a carryon suitcase which is so cute!
6. L'Occitane Almond Home & Away Set – The L'Occitane Almond body line is one of my all time favorites so this is a set I am definitely recommending!
7. Summer Fridays Hydration Set – I love the Jet Lag Mask as well as the CC Me Serum so this set caught my eye immediately. If you are looking for a new vitamin c serum, the CC Me serum is a definite must try.
8. Briogeo Detox + Restore Set – My two favorite hair products at the moment in one set!!!! This hair mask and scalp scrub has brought my hair back to life over the past few months and it is so healthy now.
9. Fresh Self-Care Masking Set – I am shocked this is even still in stock so if you want to try out the Fresh masks, buy this ASAP because it always sells out every year. Such a great gift too!