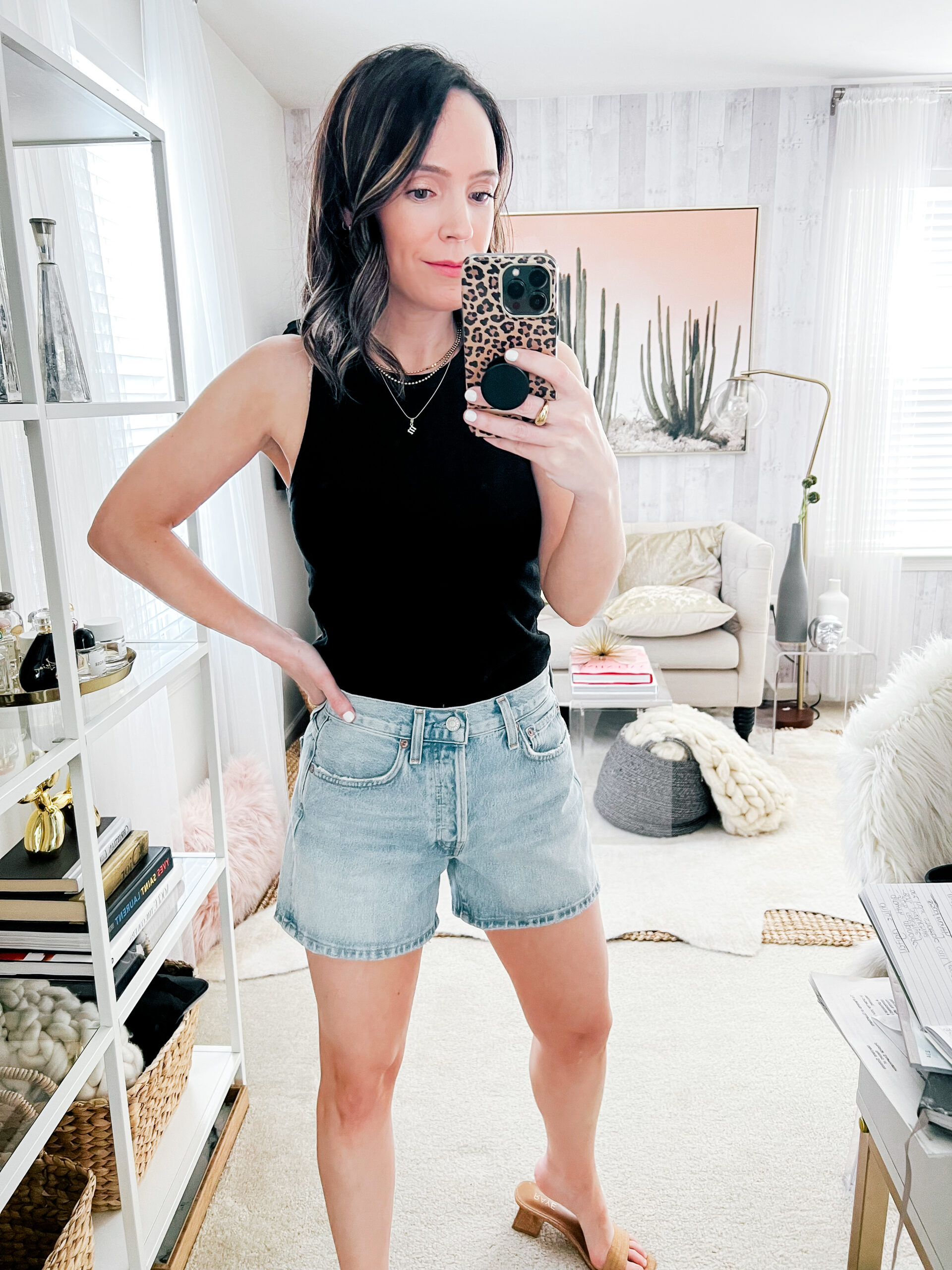 1. Agolde Parker Long Short in Twister – (runs TTS though quite roomy) This is my newest addition to my Agolde shorts collection. The fit is quite roomy and relaxed with more of a mid-rise fit rather than fully high rise. These are very comfortable but a bit more casual in my opinion. A nice length that isn't too short but not too long either. I'm wearing a size 25.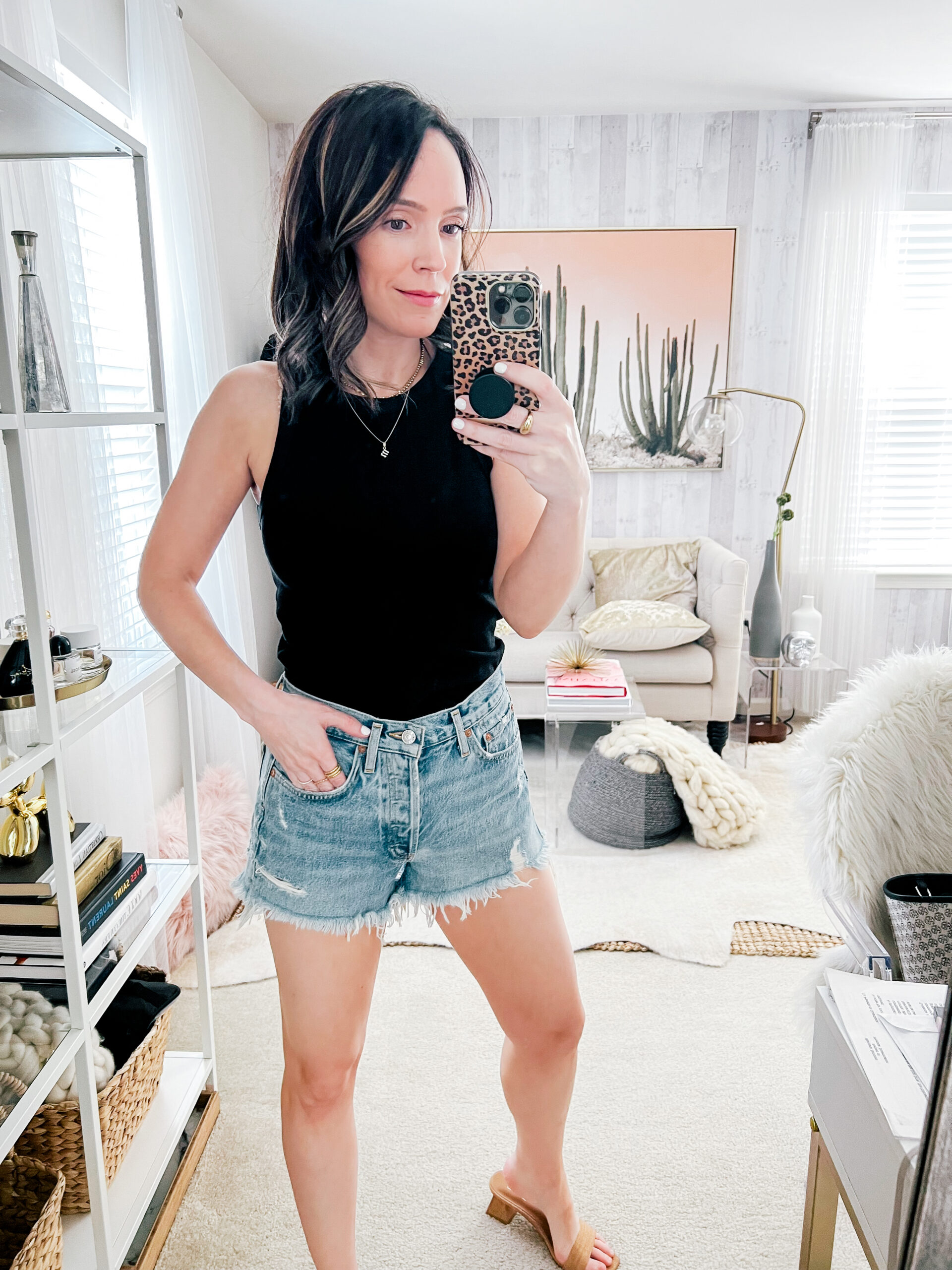 2. Agolde Parker Vintage Cut Off Short in Swapmeet – (runs TTS) This was my first pair of Agolde shorts that I purchased though now when I wear them, they feel SO short. LOL The fit is loose and casual, but the length is shorter than I normally wear. These are better for a swimsuit coverup or worn with a casual top and sneakers. The back is a bit longer than the front which I prefer and the rise is more of a mid rise than a true high rise. I am wearing a size 25.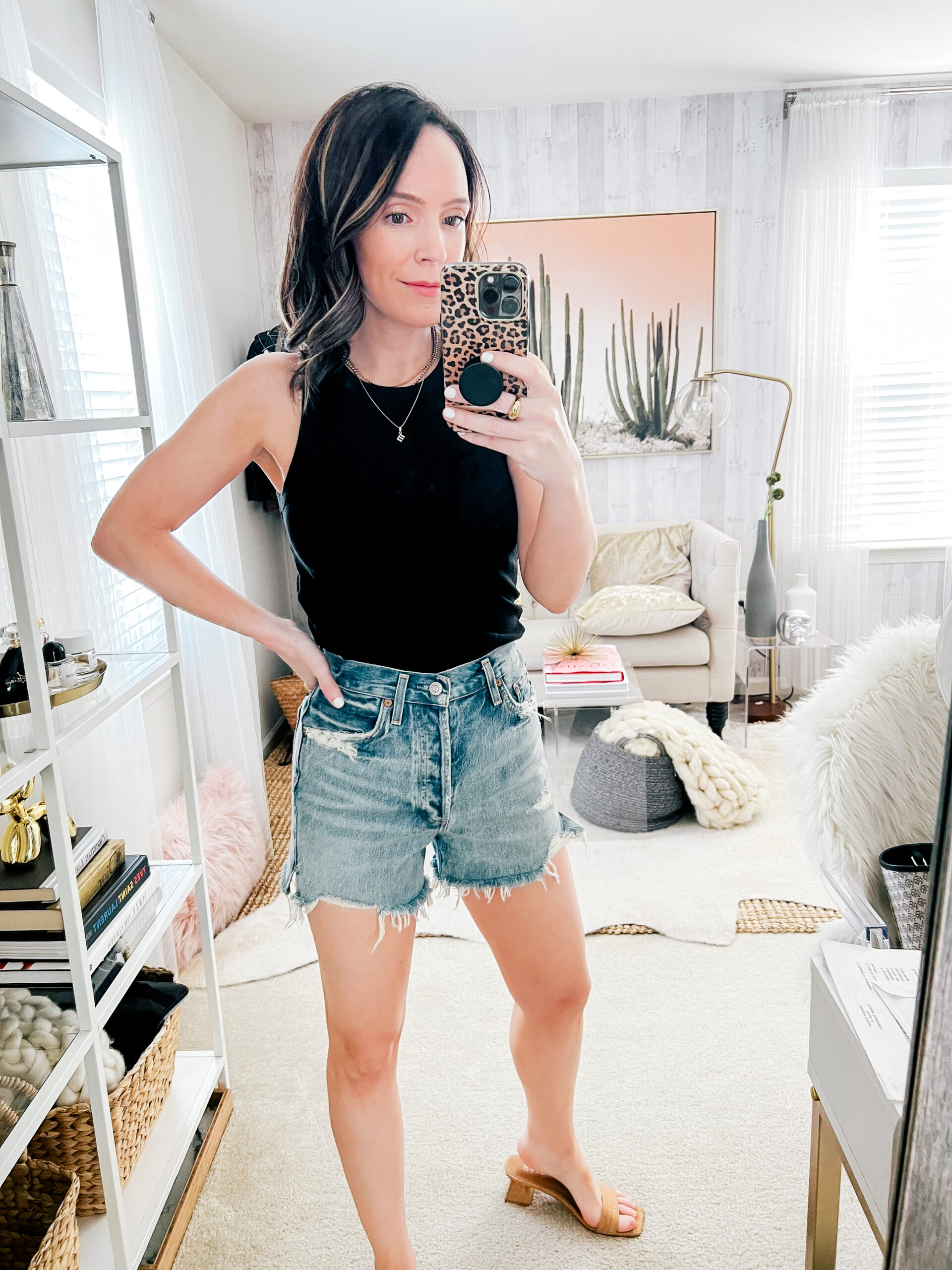 3. Agolde Dee Short in Ricochet – (runs small, I would size up)  I ADORE this style of Agolde shorts and find it to be the most flattering. Super high waisted, slim and a perfect length. This particular wash however runs VERY small and is quite tight around the waist so I would recommend sizing up. I am wearing a size 25 (but wish I had gotten a 26).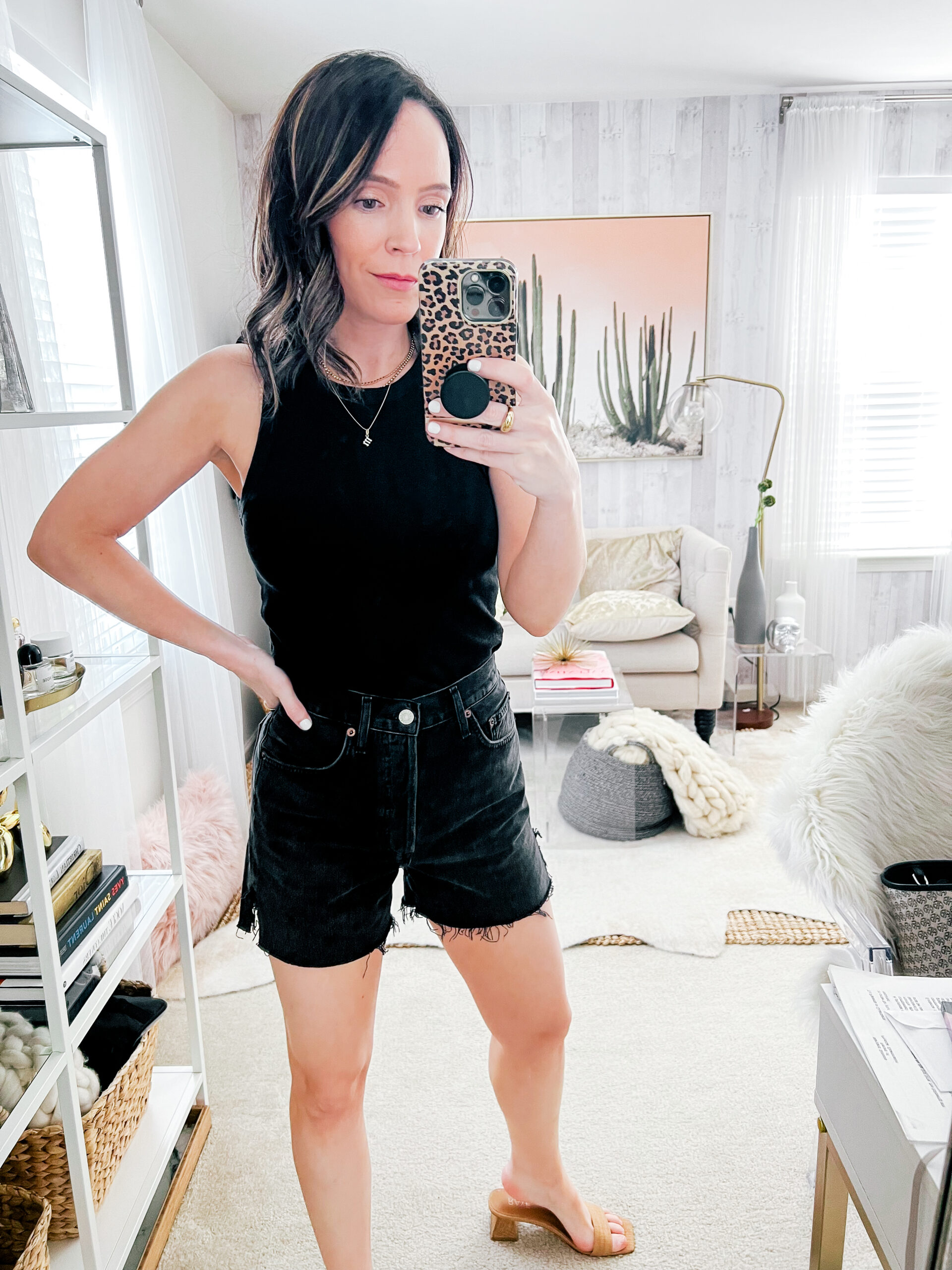 4. Agolde Dee Short in Divise – (runs TTS and fits slim) While this is the exact same style as the one above, the black pair runs much truer to size. This is the most chic and flattering pair of denim shorts I own and plan to buy more colors in the Dee style. It's the perfect length as well and the side slits make it comfortable to sit down. I am wearing a size 25.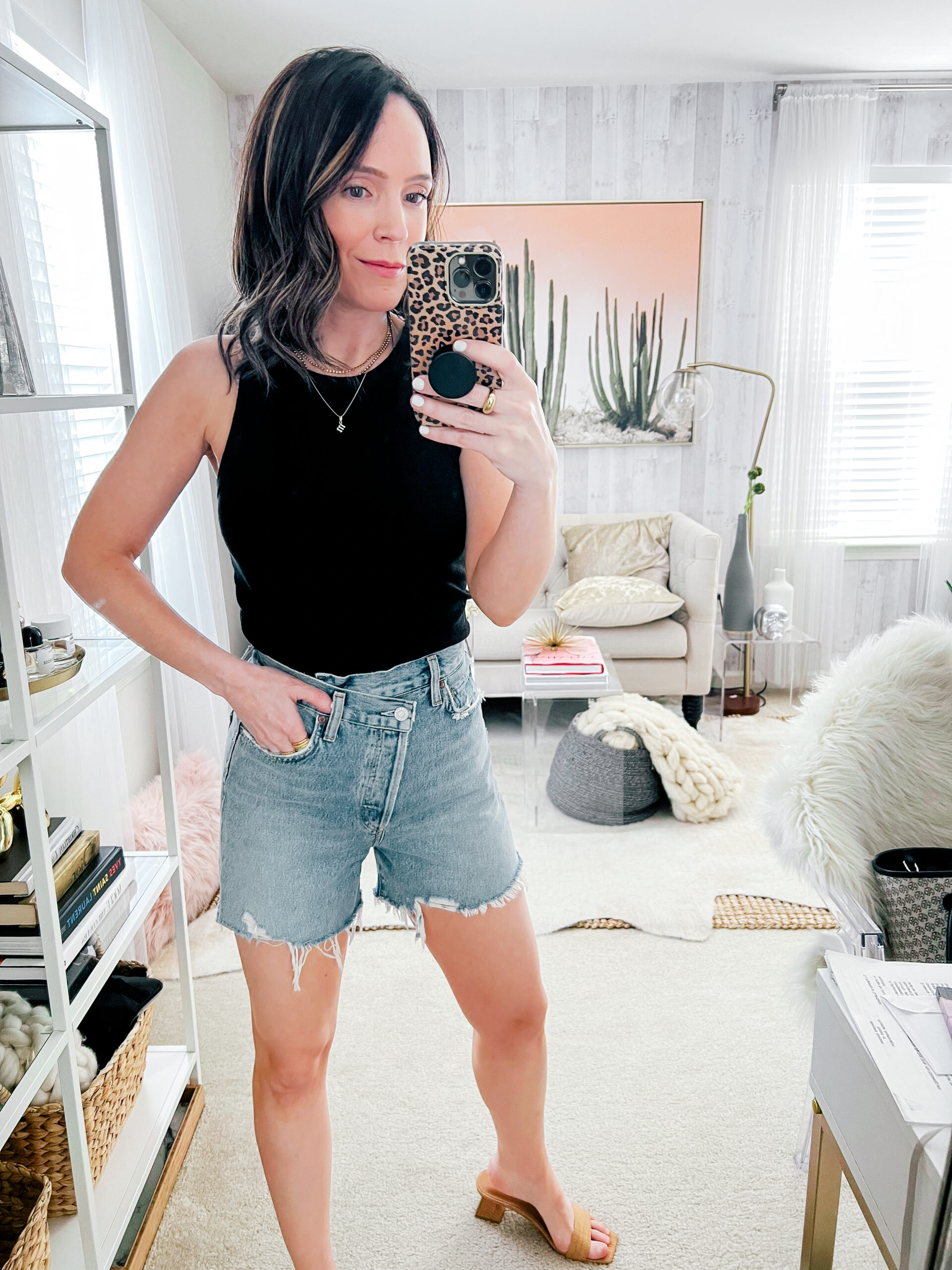 5. Agolde Criss Cross Short in Symbol – (runs big) Not everyone loves the crisscross waistband trend but I personally really love it! I think it is so flattering though it is best worn with a tighter fitting top that can show the detail better. These did run quite big so I sized down, but they don't stretch out too much so if I purchased another pair I would go with my regular size. I am wearing a size 24.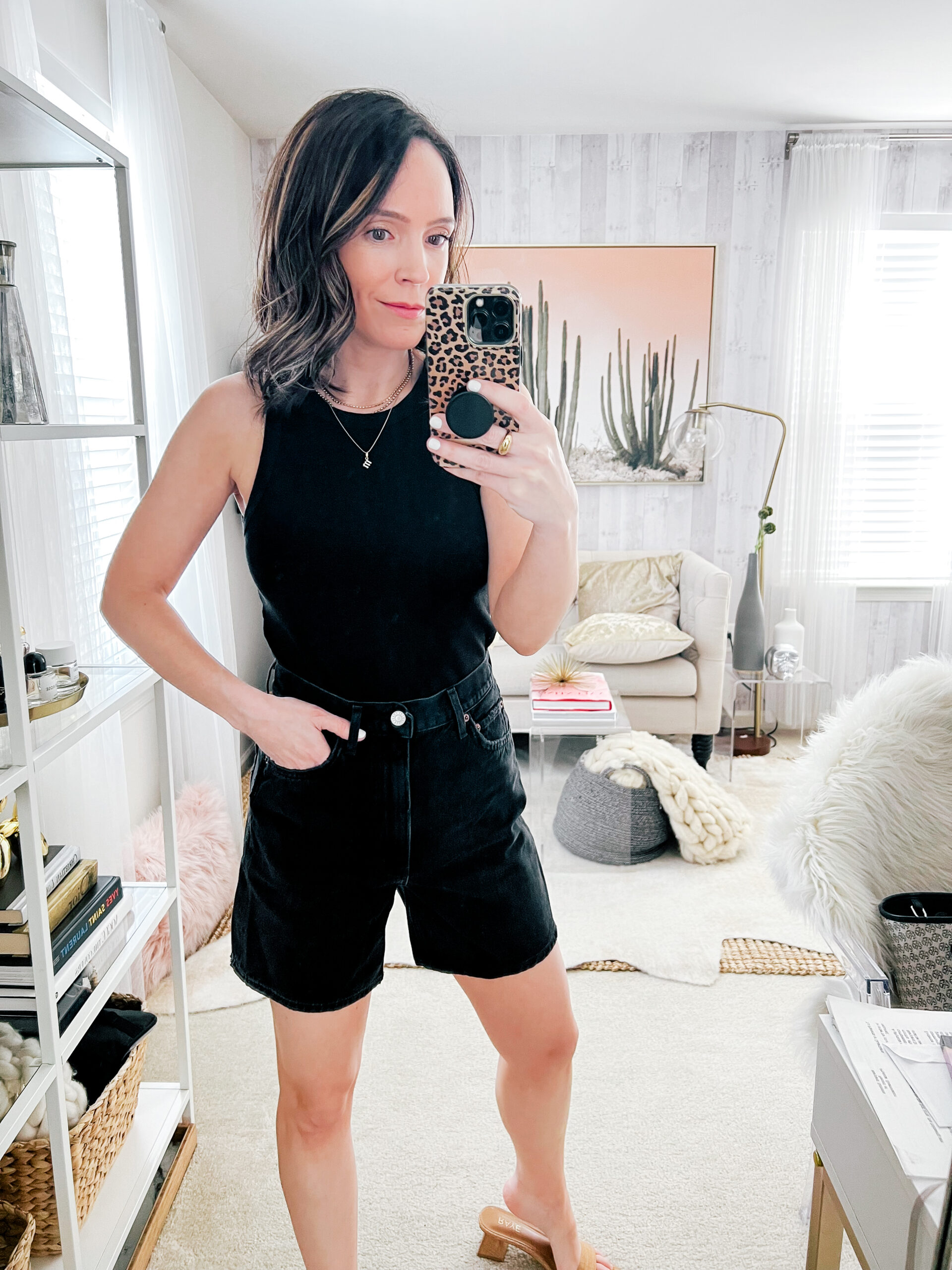 6. Agolde Stella Short in Bat – (runs big) This pair is the loosest out of all the styles and is a very relaxed and roomy style. I purchased my regular size but probably could also size down for a more fitted look. I actually like the comfy oversized fit throughout the legs while the waist is still a high waisted slim fit. I am wearing a size 25.
Sharing details on all my current Agolde shorts and how they fit!