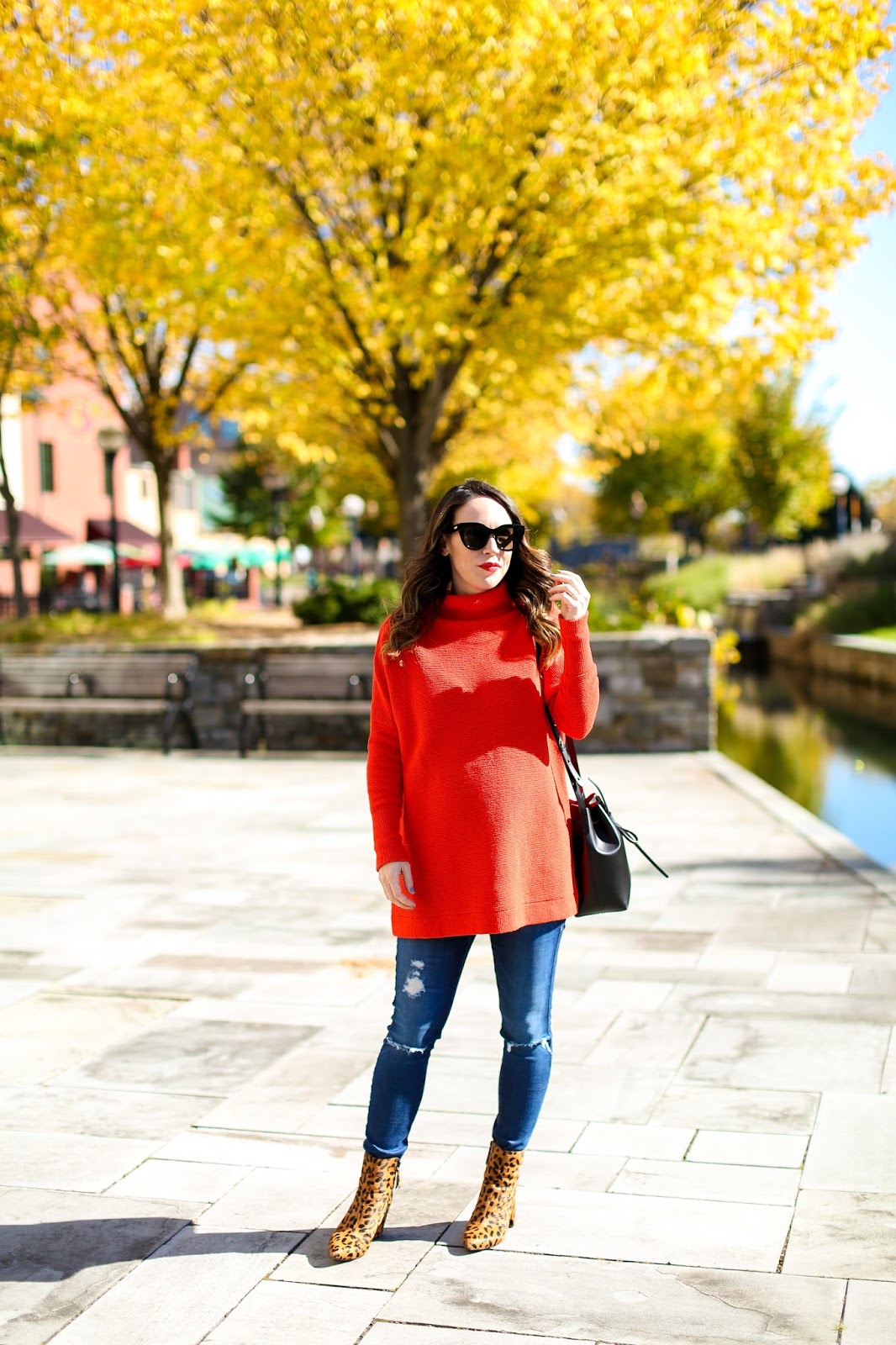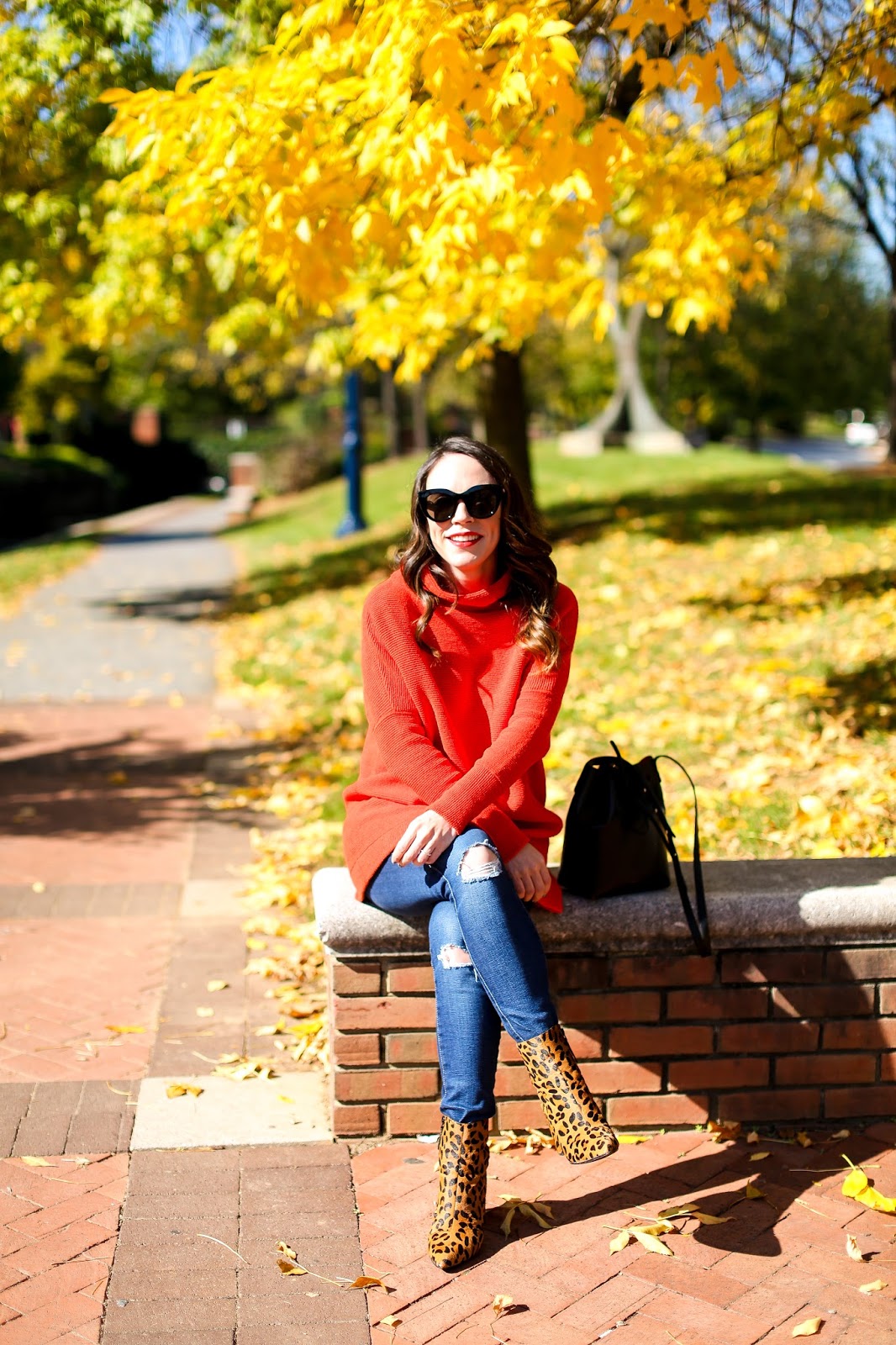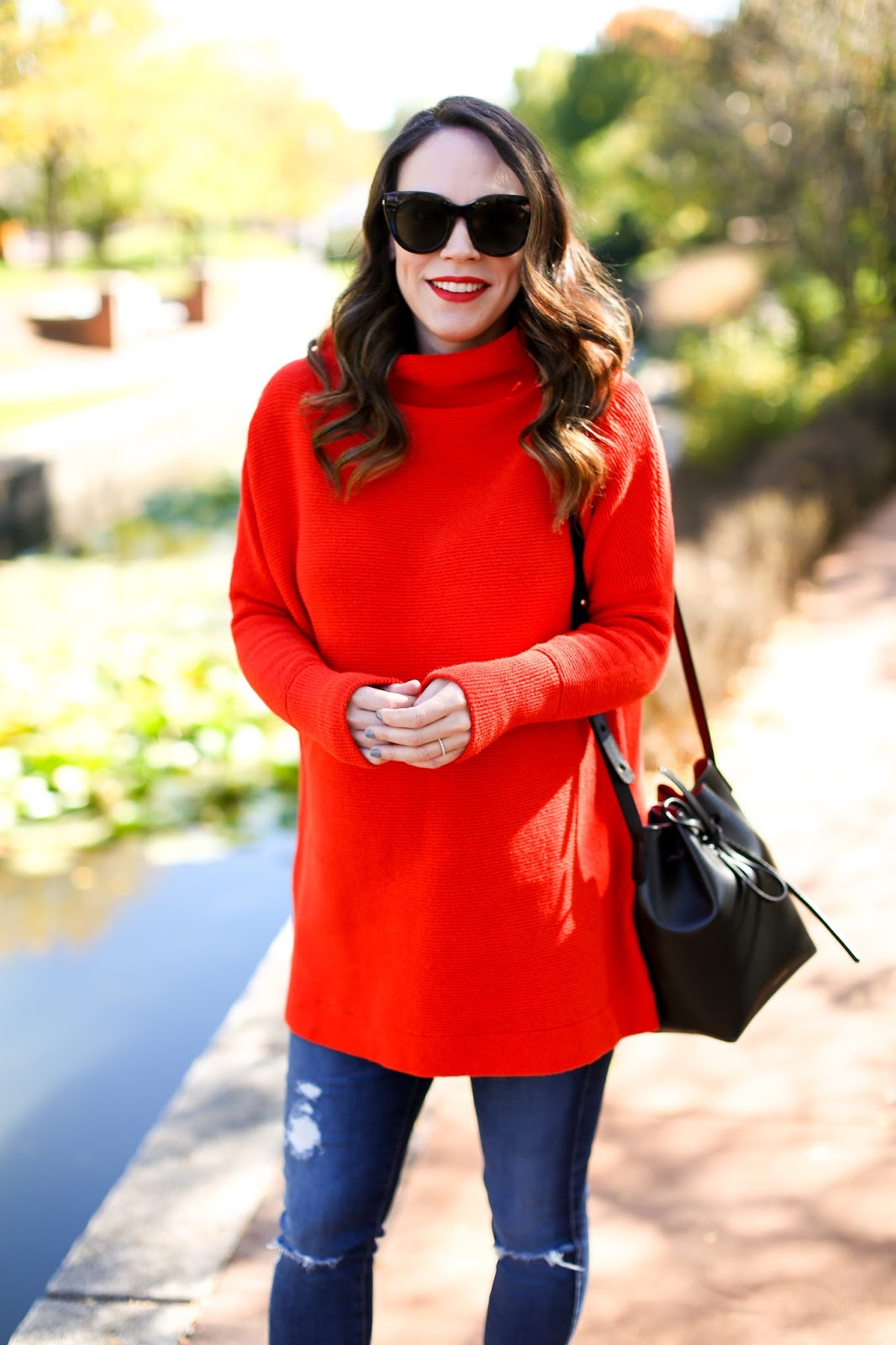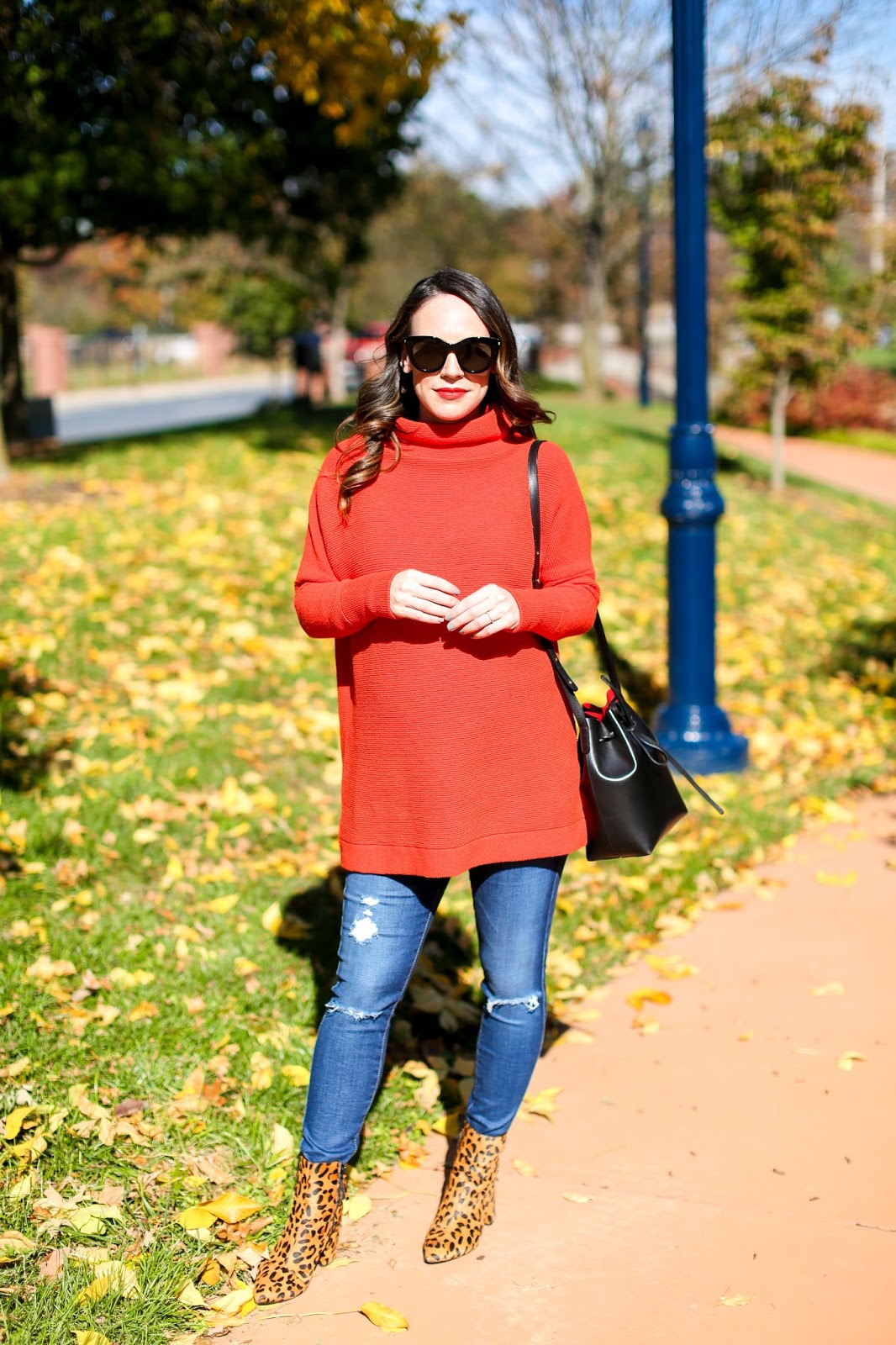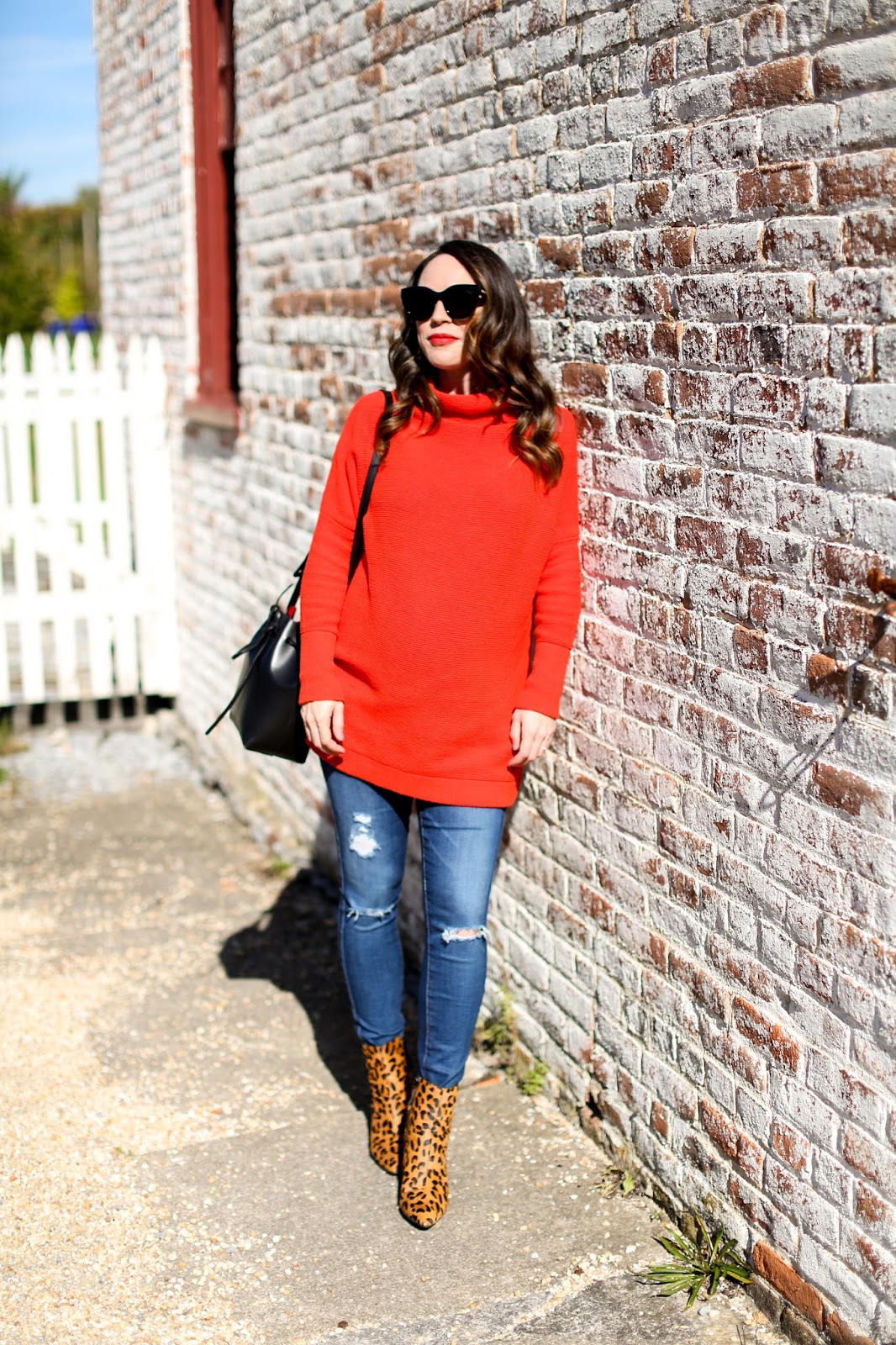 This sweater
comes in a ton of gorgeous colors but as soon as I saw this red online, I added it to my cart sooooo fast. It looked exactly like
NARS Heat Wave
 and as someone that cannot get enough red orange shades, it felt too perfect to pass up. Initially I wasn't jazzed about the wide mock neck online, but once it arrived it was much cuter on! And at almost 39 weeks pregnant, it is so comfortable and oversized (though I still took my regular size which makes it perfect to continue wearing after pregnancy). My feet are definitely swollen at this point which is why I keep rewearing these roomy leopard boots, but my motto is leopard is a neutral so I feel they work with almost anything. And now after seeing how great leopard looks with bright red, that may be a new combo I explore this winter.
I thought it would be fun in today's post to add in some recent FAQs I've received over the past few weeks via DM, comments or emails and answer them here. 
1. You test out so much skincare it seems, how often do you switch up your skincare routine? It definitely seems like I test out a lot of products but over the past year I have definitely made a decision to cut back how many new things I will try. Part of my blog is testing and reviewing, but I began to get way too overwhelmed with all the products and decided to drastically reduce what I would test. As a result, my skincare routine stays very much the same for weeks if not months at a time now. And recently I have found myself going back to old favorites rather than adding in something new all the time. Though I still enjoy testing out products here and there, I appreciate it more when my skin stays looking great because I know the products I am using are working for me.
2. Will you still blog (or blog as frequently) after the baby arrives? Most definitely I will continue blogging and just as frequently! I made the decision last year to go full time with my blog for a bunch of different reasons (some health related, some family related) and I treat this with as much dedication and energy as I did my corporate job that I had for many years. I love what I do and feel extremely grateful that I have been able to make it a career and never want to take that for granted so I will most definitely continue with it after the baby arrives. 
3. I was watching one of your old videos and you mentioned that you had spine surgery as well as chronic pain issues. Can you give an update on how you are feeling and if anything helped? For those that don't know, I have a cervical fusion in December 2015 and prior to that herniated disc surgery on my lower back in August 2010. I have struggled with intense chronic pain for more than 15 years, which was the catalyst for both surgeries. It was also a huge deciding factor in taking my blog full-time because the pain was becoming debilitating and interfering with my ability to work at a desk for 9+ hours a day. Though I surprisingly put in more hours now with my blog than I did with my old job,  I structure my day and working environment around my pain and discomfort. Things have gotten much better over the past year with my change in lifestyle, though I still have good days and bad days. However the bad days are no longer crippling and are manageable which gives me a ton of hope. Chronic pain can be one of the most isolating things to deal with simply because no one knows you are suffering unless you tell them (which many people don't want to do for fear of sounding like they are complaining). This is one of the biggest drivers behind my work ethic for the blog as I feel very grateful that I had an opportunity that allowed me to structure a lifestyle suited to helping me better manage my pain. And never has this been more relevant than now as I prepare to have a baby. I feared getting pregnant for so many years because my pain was all consuming and I couldn't figure out how I was going to manage that while still being a mom. But deciding to take that (rather frightening) leap with my blog has given me the freedom to finally realize that dream of becoming a mom.  
4.
So excited for your little boy to arrive! Will you be sharing a nursery reveal or tour on the blog?
Most definitely as soon as it is completed, which I am hoping will be in the next few months. For now I will be sharing snippets here and there on
Instagram
or Insta-stories.
6. What do you miss most about living in NYC? I speak for both Stan and myself when I say that we miss the food the most. Though I love great food, Stan is a SERIOUS foodie. He is not amused by trendy places and would rather seek out the most authentic, adventurous and skillfully crafted meals he can. And that was our labour of love together as we explored so many great places around NYC.  
7.
I am looking for some new bookshelves and wanted to know where you got yours from that you have shown on your Instagram?
I wasn't going to include this question in today's post, but surprisingly I have been shocked at how many questions I have received about those shelves! LOL
They are from IKEA
and are such a great price point for the quality.
8. I'm a new mom and would love to know about some of your favorite baby products once your little one arrives! Will you be doing reviews on anything? To be honest, the majority of my blog will stay focused on fashion and beauty, but over the past year I have really enjoyed sharing more lifestyle content (decor, food, etc) so I'm sure some baby reviews will be peppered in here and there. However, they will only be supplemental to my core focus which is still makeup and clothes. 
9.
In the market for a new vitamin c serum, can you recommend a good one?
I will actually be doing an upcoming post rounding up a few that I really enjoy, but
this one from Ole Henriksen
has been a staple for many years and
this Skinceuticals
was a recent discovery over the past few months and it has really impressed me!
Shop more Free People sweaters I am loving right now:
!function(d,s,id){var e, p = /^http:/.test(d.location) ? 'http' : 'https';if(!d.getElementById(id)) {e = d.createElement(s);e.id = id;e.src = p + '://' + 'widgets.rewardstyle.com' + '/js/shopthepost.js';d.body.appendChild(e);}if(typeof window.__stp === 'object') if(d.readyState === 'complete') {window.__stp.init();}}(document, 'script', 'shopthepost-script');

JavaScript is currently disabled in this browser. Reactivate it to view this content.