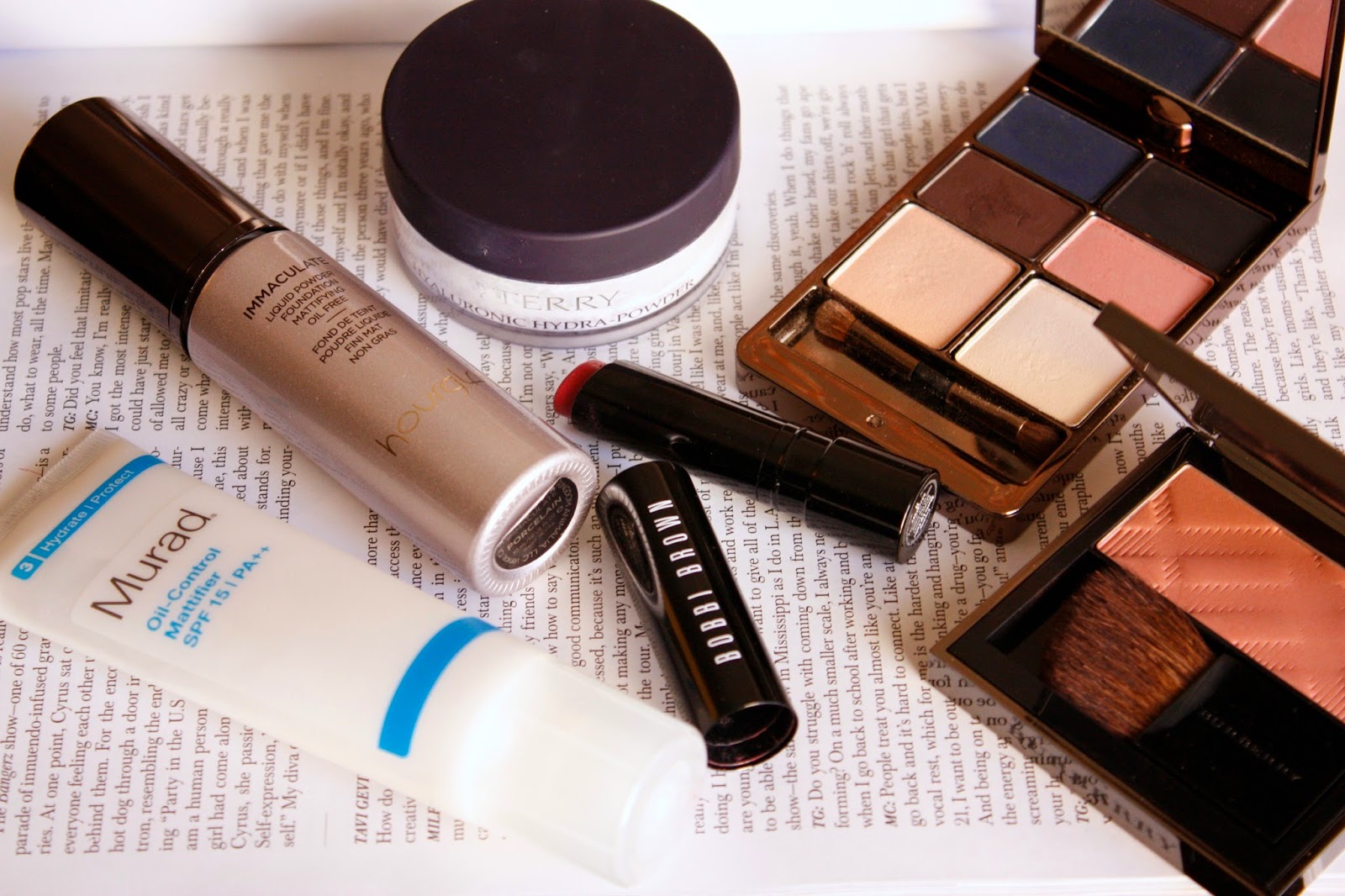 I have a confession. I used to be a HUGE shimmer fan. Shimmer on the eyes, cheeks, lips, face, body, you name it, I wanted it to sparkle. The shift began a few years ago, when I looked at one of my matte eye shadows and realized how beautifully it wore. Slowly, this turned into blushes, lipsticks, foundations, etc and now I have quite a strong collection of matte products in my makeup routine. Here are a few of my favorite matte products that still manage to make the skin look beautiful and radiant, without the shine.
1.
Murad Oil-Control Mattifier SPF 15
*- The first time I used this, I did not like the texture. It felt thick and heavy in my hands, and I did NOT want to put it on my face. But I did. And just as many of the reviews had said, it absorbed into the skin immediately. So I wore it for the entire day, and that is when I was convinced of its magical mattifying powers. My skin did not shine once during that day! It is currently housed in the holy grail section of my medicine cabinet.
2.
Hourglass Immaculate Liquid Powder Foundation
– So many liquid powder foundations out there, yet so few will ever rival Hourglass. It still is the standard for mattifying foundations that I hold everything up against. Consistently in so many beauty lovers' favorites, I can see this being one of the few foundations I ever repurchase.
3.
By Terry Hyaluronic Hydra Powder
*- For the past 6+ months, I have been going along, having my casual and quiet love affair with
La Mer translucent loose powder
. Minding my own business and enjoying it's beautiful, velvety finish and ability to make pores seemingly disappear from my face. The only down side, however is that it does have a slight color so it often oxides on me when I'm wearing certain foundations. Enter
By Terry Hyaluronic Hydra Powder
. Mind. Blown. This stuff is amazing. I repeat, this stuff is amazing. The first time I used, I
actually
said after 10 hours of wear on my face, "this powder is almost TOO matte". Can you believe that? But I used a tad less the second time and it was perfect. When I tell you that I put on my makeup at 7:45am and sometimes don't take it off until 9pm, and I am
still
matte, I know you may find it hard to believe. So did I until I saw it. And the best part for me is that because it is a white, translucent powder, it does not make any of my foundations oxidize. In fact, it can make me appear paler if applied too heavy, so that's my tip to you. Apply sparingly, but nonetheless APPLY THIS POWDER.
4.
Bobbi Brown Creamy Matte Lipsticks
– It's only right that the queen of lipsticks make one of my favorite matte lipsticks. The name says it all because it's creamy, comfortable on the lips and does not dry my lips out as most other ones do. But the color pay-off is intense so be sure you love the color you buy. I have it here in Razzberry, and it is one of my top 5 favorite lip colors out of my entire collection. A distinction that is similar to an academy award, pulitzer or nobel peace prize.
5.
Hourglass Vol. 6 Eyeshadow Palette
-We all go gaga for the ambient lighting face powders, but this palette has managed to fly under the radar for a long time. I believe it is limited in its distribution, as I have only seen it at
Barneys
or
Space.NK
, but it is a must have in your eyeshadow collection. 5 out of the 6 colors are beautiful matte shades with one subtle shimmer to add a bit of dimension to any looks you create.
Here is a picture
of the swatches I posted in Instagram a while back. See? I told you it was good.
6.
Burberry 'Light Glow' Natural Blush
– I have a ton of matte blushes, but Burberry ones are by far my most used. They are easy to apply over powder or liquid foundation without sticking or going on splotchy. I made the mistake of reaching for a shimmer blush recently and my cheeks ended up looking like disco balls by mid day. This further solidified my devotion to matte blush. This Burberry shade in Tangerine is actually more radiant on my face than one with shimmer.
That's
how you know it's a good blush. 
*press samples
What are some of your favorite matte products? I would love to know as I am always looking to add great ones to my collection!