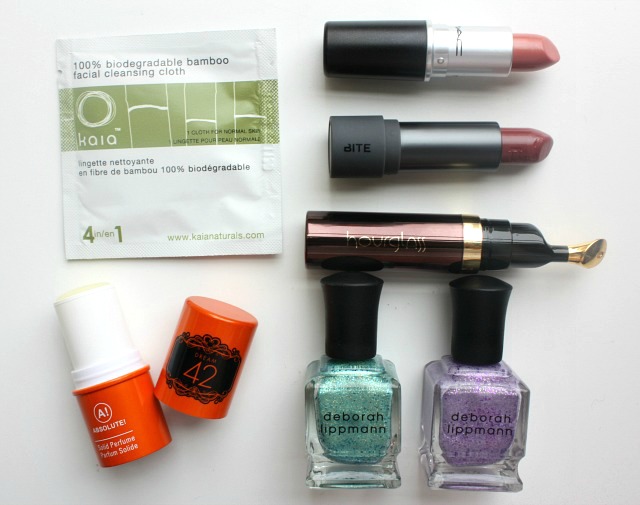 I've been on a makeup buying bit recently, so this month's favorites were primarily all color, with only one skincare item and one fragrance.  But we all know I am a forever skincare junkie, so there are many new products I am testing out and am sure will find some favorites to feature in August.  So without further ado, let's talk product:
1.
Kaia Bamboo Facial Cleansing Cloths
(c/o) – Removing my makeup at night is probably one of the things I look forward to the most each day.  And without fail, I
always
start with makeup removing wipes to begin the process.  Touted as a cleanser, toner and makeup remover all in one, these wipes left my skin feeling refreshed without any of that dreaded residue-y feeling.  Perfect for sensitive skin, 100% natural
and
biodegradable, these wipes will satisfy those looking for more natural skincare choices
and
beauty lovers who need a product to effectively remove makeup each night.
2. 
A! Absolute Solid Fragrance in "Dream 42"
– Introduced to me through a recent Glossybox, I fell instantly in love with this fragrance.  With notes of sweet mandarin and tangy grapefruit, this has been a perfect scent for the summer.  Most days I throw it in my bag and use it to freshen up when needed.  It gives a subtle citrus scent that is understated yet bold enough to wear for day or night.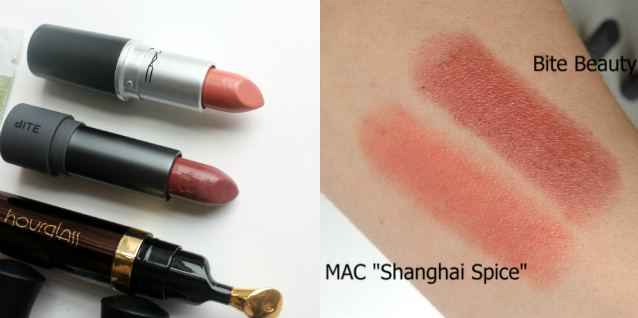 3.
MAC Lipstick in Shanghai Spice
– No shocking news here that my two favorite lipsticks for this past month were nudes.  Sooooo typical.  But still, when it's good, it needs to be shared.  I picked this color up on a recent 'Back 2 MAC' recycling visit (if unfamiliar, read about the program
here
), and have been wearing with a smokier eye, as it gives me a paler lip look that works well with darker shadow colors.  Some days putting on my makeup seems like a science, ya know???
4.
Bite Beauty Lipstick in Pepper
– Hold the phones.  Stop the press.  This lipstick needs your undivided attention.  Not only the color, but the texture of this lipstick made it a sure thing on my monthly favorites list.  I have seen other beauty bloggers speak about Bite beauty, but sometimes I can be stubborn with trying new brands – but I'm glad I broke through and gave this one a shot.  After trying in store, the products blew my mind – from the color ranges, to the textures, to the staying power of this particular lipstick – all was stellar. 
5.
Hourglass Lip Treatment Oil
– This is my fancy favorite of the month – and quite a splurge.  But I am never one to shy away from luxury products as we all know (that "we" includes my credit card), so this lip oil was right up my alley.  Used more as a night treatment, I found the rich texture and emolliency to really nourish and heal my lips overnight – making the lipstick I wore the next day glide on smoother and more even.  Oh, and the gold shiny packaging got me too.  Obviously.  
6.
Deborah Lippmann "Mermaid's Dream" and "Do the Mermaid" Nail Polishes
– My nails are one of the only places you may ever find glitter on me, and even then it is a rare occurrence.  But having already been a fan of Deborah Lippmann polishes (see all my swatches
here
), I knew I would love the "Mermaid" collection.  I purchased the teal "
Mermaid's Dream
" last year after hearing of it's unique color, and it quickly became one of my favorite summer polishes.  When the additional Mermaid colors launched this summer, I snatched up the lilac "
Do the Mermaid
" immediately.  The texture is unique as it mixes both finely milled glitter with chunkier bits, to create a multi-dimensional look that can be worn more opaquely than other brands.  I like to think of these as "grown up" glitter polishes. 
Shop all my favorites below:
Only one week left to enter my Dior "Grege" eye palette giveaway!!!  Click
here
for all details.