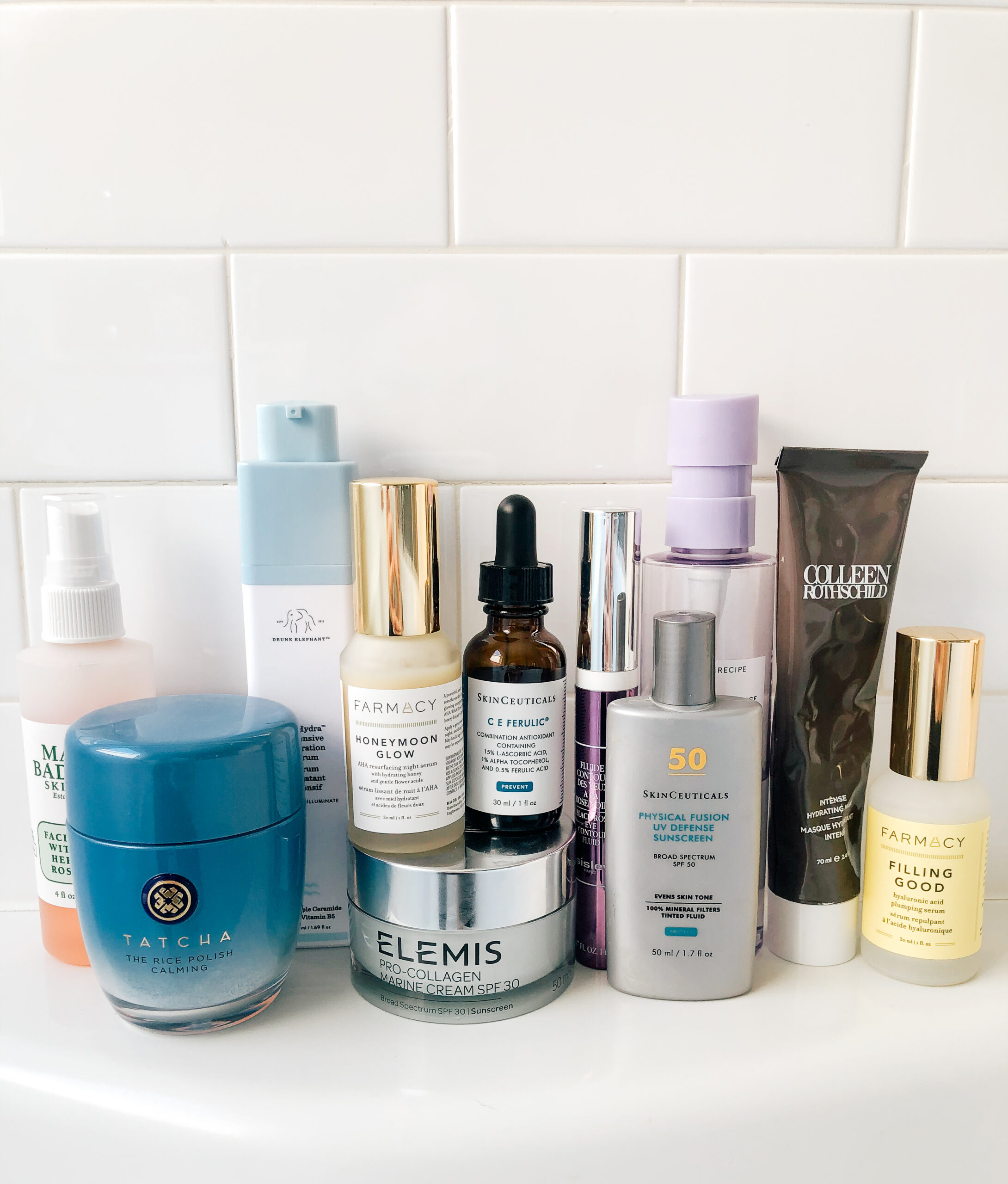 My skincare routine tends to be something that isn't exactly the same every single day so I always hesitate to do a blog post on it but I've had a ton of requests for it so I thought I would share the products that I have been using regularly for this summer. Sometimes I rotate in other things based on what I'm testing or what my skin needs but for the most part, these products have been in rotation for at least 2 months if not longer. I have a blog post on the order in which I apply my skincare products if you want to reference that as well.
MORNING ROUTINE
Cleanse – Right now I am loving an enzyme powder in the morning for a gentle exfoliation or my trusty gel cleanser that I've been using for years.
Mist – I either use this super affordable mist that I've been using for years or this Elemis favorite. The Elemis one is a bit more delicate in how it comes out and really gives a nice even burst of moisture.
Eye Cream – I've been using this lightweight eye contour fluid and really enjoy how it hydrates and firms the eye area so well.
Serum – I like to use a vitamin c serum in my morning routine so I am back on this one that is one of the best I've ever tried. I also like to use a hyaluronic acid serum and am alternating between this super affordable one and this Skinceuticals favorite that really helps to plump the skin.
Moisturizer/SPF – I don't normally use moisturizer in the morning unless my skin is feeling like it needs it, so I have been using this from Elemis that feels like a moisturizer WITH SPF 30. For days I want a higher SPF, I use either this one or this one at the moment.
EVENING ROUTINE
Cleanse – I like to use a cleansing balm to remove my makeup at night so I have been reaching for my Elemis and Lilah B recently. Following that, I have been using this Glow Recipe cleanser as a second cleanse and love how it makes my skin feel nice and fresh but never tight.
Tone – I typically reach for toners with acids to give me a slight bit of exfoliation though in the summer, I don't like to go too hard. Right now I am using my trusty Pixi Glow most nights.
Mist – As in my morning routine, I am reaching for either this mist or this mist after toning.
Eye Cream – I use the same eye contour fluid in the evening that I use in the morning.
Serum – I always like to have a hyaluronic acid serum in my evening routine most nights so I am still using this one from Drunk Elephant or this one from Farmacy. Every other night (3-4 nights a week) I will use either my Sunday Riley Good Genes or Farmacy Honeymoon Glow.
Moisturizer – Right now I have been reaching for this super hydrating and calming cream from First Aid Beauty that I have been using for 5+ years. It's really nourishing and moisturizing. For nights that I want something more lightweight, I am loving this one from Summer Fridays.
Face Oil – I rarely use face oil and moisturizer together because my skin is fine with one or the other. On nights I want to use a face oil, I typically will cleanse, tone and then put on a face oil and nothing else. I normally do this one night a week and am currently using my Elemis face oil.
Facial devices – I still use my NuFace in the morning 4-5x/week and then my GloPro at night 3x/week.
Masks – I don't have a particular routine when it comes to masks since I just reach for what my skin needs when it needs it. On average, I mask 2-3x/week. This hydrating mask is one that I use all the time and can't be without. And this detox mask is also one that I've been reaching for all summer to help give me a deep clean.