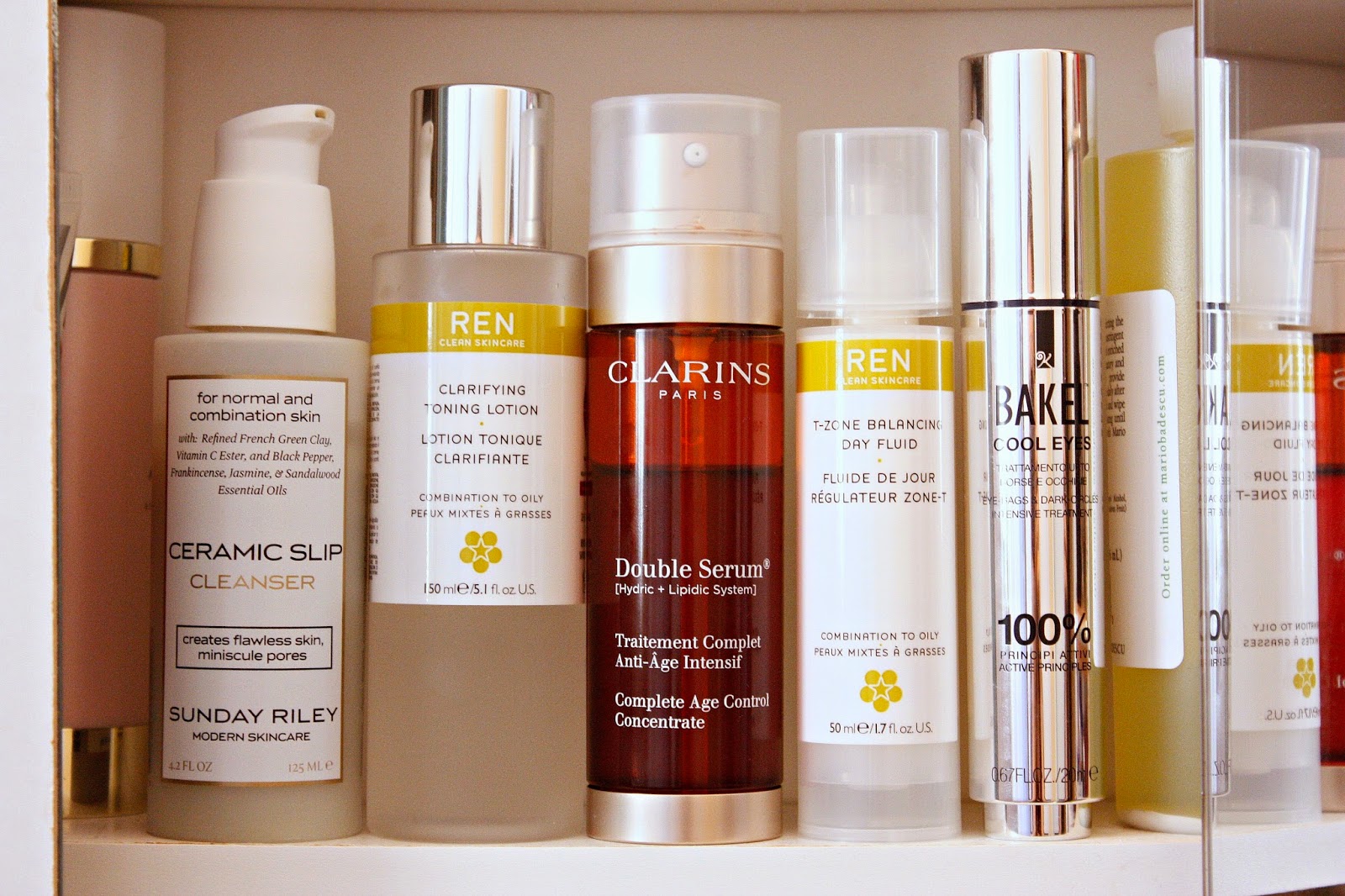 It's been quite a while since I did a
morning skincare routine
post, and a lot has changed so I felt it was time for an updated one. When it comes to my morning regimen, my makeup may vary from day to day, but I tend to keep the same skincare routine for a long time. Any new products I am testing out typically are tested in my evening routine because I can't afford to have any issues during the day. The last thing I need is to have an allergic reaction or irritation from a product and have to get out the door to head to work. No thank you. So once I settle on a combination of products I like, I leave it there until I finish them up (or something else is good enough to catch my eye). Here is a look at my current morning skincare routine:
1.
Sunday Riley Ceramic Slip Cleanser
– Sooo many mixed reviews on this product, and after using it I can understand why. The first time I applied it, I used 3-4 pumps and was left with the driest most uncomfortable skin imaginable. After reading some tips online, I amended my application to only one pump as recommended and it performed much better. Yup, "they" were right. The cleanser helps to make my skin feel fresh, clean and balanced each morning which is just what I need to wake me up. This is one of those times when I am glad I listened to the Internet.
2.
REN Clarifying Toning Lotion
– If I am not using my
First Aid Beauty Blemish Patrol Pads
during a breakout, I use this REN clarifying toning lotion after cleansing. I prefer to use an exfoliating toner for both my morning and evening routine and then follow it up with a hydrating mist (
this one
is a favorite) or balancing lotion/essence (alternating between
this one
and
this one
right now). The glycolic acid and salicilin in this toning lotion helps to remove any dead skin cells and purify congested skin, preparing my skin for the rest of the treatments.
3.
Clarins Double Serum
– I feel that you truly can't call yourself a skincare lover until you have added this cult classic to your routine. Every time I have posted it on Instagram, the first thing everyone says is how much they love this serum. The bottle houses two different formulas that dispense simultaneously when you press the pump which is one of the coolest features of this serum. The fact that the ingredients are designed to help reactivate skin's functions, reduce wrinkles, even skin tone and firm skin is just an added bonus. And for me this serum wears beautifully under makeup, and feels amazing on the skin. One pump is enough to cover my entire face and my skin immediately looks smoother. I feel this is the one serum that any age or skin type can use and should add to their routine.
4.
REN T-Zone Balancing Day Fluid
– Most moisturizers are too heavy or end up contributing to my mid day shine disaster. I have been on the hunt for a balancing or slightly mattifying face lotion that worked for my skin, and I found one just in time for the humidity and heat. This REN lotion absorbs instantly without any tackiness, and acts as the perfect base to apply my makeup or sunscreen. It gives my skin a natural matte finish and wears just as well in the cold weather as it does in the heat. Typically I follow it up with a sunscreen, and
here is a prior post
that I wrote featuring the ones I'm wearing this summer under my makeup.*
please note the name for this product has changed and it is now the Clarimatte T-Zone Balancing Gel Cream
*
5.
Bakel Cool Eyes
– I have a lot of trouble sleeping as well as the issue of waking up with intensely dry eyes so I need an eye cream that immediately helps soothe and hydrate. This has been my go-to eye cream for the past few months and I am loving it. For more details, check out the
full review
I did on this eye cream a few weeks ago.
What is your current skincare routine? Tell me in the comments below!