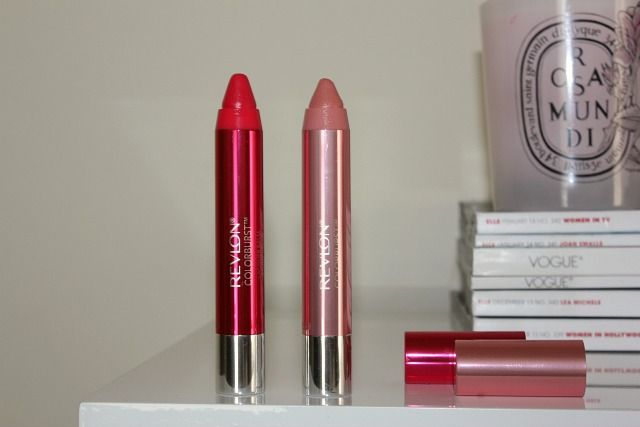 The blogs are a-talkin' about these Revlon lip balms, and so far I have only been able to find the lacquer balms. I am holding out for the matte balms, and hopefully they wow me a bit more than the lacquer ones did. I purchased both a bold (called Vivacious Exuberante) and neutral (called Demure Reservee), figuring I would love the nude a tad more (because - well, we all know I live for a natural lip), but surprisingly it fell flat for me, while the brighter shade won me over. Below is a look at the swatches of each color.
They are super easy to apply and feel great on the lips, but the shimmer/glitter in the nude shade, Demure Reservee was too gritty for my lips and actually altered the color to have an odd blue/green tint. I know, it was weird for me too. Vivacious Exuberante (these names though?) was less glittery and had a much more buttery smooth finish on the lips, with pigmentation that lasted for a good 4-5 hours. I love the twist up option rather than having to use a sharpener, and if I can manage to track down the matte balms, I think I may have a stronger fondness for those. On a side note, I recently bought a Cover Girl Lip Perfection Jumbo Gloss Balm and was wowed by it - you can see the swatch and review
here
. Have you tried these lacquer balms? What are your thoughts and what shades did you love?