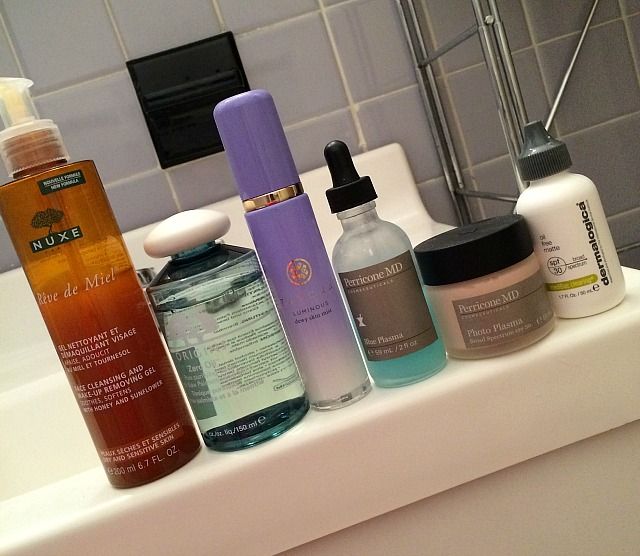 While putting my makeup on in the morning is one of my favorite activities, I think we all know at this point how I feel about skincare - it's everything!!! Though my evening routine can be quite involved, my morning is a tad simpler as I am using applying with one eye open, half asleep. But alertness aside, I still need to make sure I prep my skin well for my daily makeup application (and there are normally many layers, you guys know I love a full face). The products may rotate based on time of year and how my skin is feeling, but this routine has been in rotation for quite some time now and I felt it was time to share it. Because really, if a proud is used and a blogger doesn't write about it, was it ever really there? Food for thought.
1.
Nuxe Face Cleansing and Makeup Removing Gel
(c/o) - Now while the name suggests I could use this at night for makeup removal, I simply love it for the morning. The texture is a thick honey-like consistency and feels luxurious and gentle on my skin. I keep it in the shower with me and massage it all over the face for a minute or two. Afterwards my skin feels so soft, supple and primed for the rest of the regimen.
2.
Origins Zero Oil Pore Purifying Toner
- I was drawn to this toner for its mattifying properties, and while I do feel it gives a matte finish, it is a tad drying occasionally because of the alcohol content. So after I use it, I spray my face with the Tatcha Luminous Dewy Skin Mist to give me a boost of hydration. The combination together makes gives me a great balance and my skin feels healthy and even toned.
3.
Tatcha Luminous Dewy Skin Mist
(c/o) - One of my favorite facial mists of all time, this decadent spray gives the most delicate application which makes it perfect for not only applying after my Origins toner, but also for applying after my makeup is applied. I give a quick spritz to take down any overly powdered parts of the face and give it a nice boost of hydration.
4.
Perricone MD Blue Plasma
(c/o) - Not a day goes by that I don't apply my Perricone Blue Plasma. A gentle and effective daily peel, it helps exfoliate, brighten and retexturize my skin. It soaks in immediately after applied, and wears well under any additional moisturizers I apply. Though I can suffer from occasional dry spots from acne treatments, this helps to exfoliate those spots and eliminate them over time. It was put in my best of beauty 2013 for a reason.
5.
Perricone MD Photo Plasma
(c/o) - Another Perricone product? Yes, yes and more yes. Each product I have tried has always been so effective and non-irritating that I just keep adding more and more to my routine. This is a new product for me, but I have been longing to try it for some time. The texture is unique blending a whipped mousse-like richness with a light gel feel, and applies so radiantly yet dries down to a gorgeous natural matte finish. It's like the ultimate oxymoron cream that I want to wear every single day. The added bonus is the SPF 30 that makes it a staple now in my morning arsenal.
6.
Dermalogica Oil Free Matte SPF 30
(c/o) - Another best of beauty 2013 winner, this lightweight daily moisturizer has been on my favorites list since first use. I typically choose between this and the Perricone, but if my foundation is already quite radiant I will choose this SPF moisturizer, as the Perricone does have a slight tint to it that can create a subtle glow. This option however while very matte is incredibly hydrating at the same time. It is a must have in the warmer months because of it's lightweight feel, but even in cold weather it has made its way back into rotation.
Shop the post: