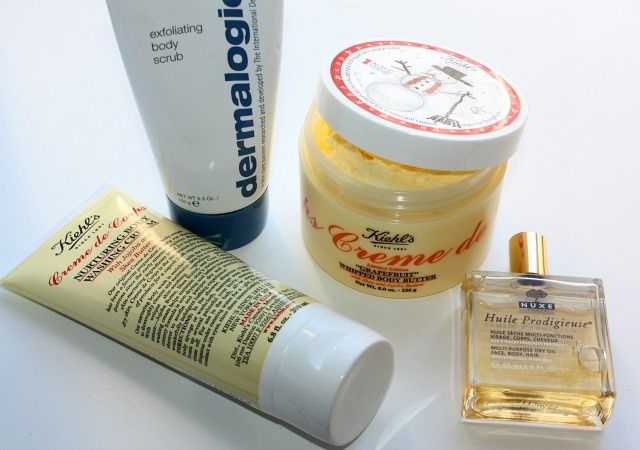 I may be oily as can be on my face but the rest of my skin tends to be dry, flaky, pale and just plain ick. During the summer months, obviously it is not as bad because of the humidity and heat, but I still need to my skin well hydrated. But in the winter months, my skin takes a huge push into alligator territory - dry and scaly - double ICK! There are even some days where it hurts after a particularly cold walk home - so having products that can moisturize and hydrate immediately are of the utmost importance. I need relief NOW. This winter these products have been saving my poor skin already (and the cold hasn't even begun yet in NYC):
2.
Dermalogica Exfoliating Body Scrub
(c/o) - I exfoliate A LOT in the summer (I love a good shiny leg), but I still keep the scrubs around when the temps drop. I typically use this once a week, and while it gives a good scrub, I love the gentle foam that develops as I am scrub-a-dubbing. It helps to take away all that dead, dull winter skin while still helping to calm it.
3.
Kiehl's Creme de Corps Limited Edition "Grapefruit" Whipped Body Butter
(c/o) - Hello, decadence. I mean, there is the actual word 'butter' in the name - so you know this stuff is the real deal. First of all, the
original Creme de Corps Body Lotion
has always been my holy grail - and is the most hydrating yet absorbent lotion of all time. And then
Kiehl's
had to kick it up a notch and blow my mind with the whipped body butter. I left the top open in the picture to tease you a bit - can you even with that texture?? And now for the holidays, they have made a limited edition Grapefruit scent, with 100% of net profits going to the Share Our Strength's No Kid Hungry Campaign. You can hydrate, have perfectly silky skin
and
give back. Does it get better than that?
4.
Nuxe Huile Prodigieuse
(c/o) - As you all probably know, I am never one to run from a body or face oil - I just love them! And this cult classic certainly lives up to the hype. A dry oil that absorbs immediately leaving the skin soft, supple and with a healthy shine. But don't let this one application stop you, it can be used on your hair, face (apply before foundation for a subtle glow) and a few drops in the bath for a milky emulsion in which you can soak yourself all night.
Shop the post and other great suggestions: